Feeling Bleu? MOOOve over because we are about to cut the cheese. June 4th is National Cheese Day! You can celebrate by taking this opportunity to enjoy delicious cheeses through town.
Embark on your cheese-eating adventures at Wood Iron Eatery and warm up with their famous Cheddar Biscuits. Nothing beats cheddar biscuits topped with eggs and gravy.
2. The Station Artisan Cheese Plate
Indulge in an artisan cheese plate to observe the holiday. Enjoy Spring Gap Mountain Creamery cheeses, charcuterie, house baguette, pickled yada, locally made seasonal jam, whole grain mustard, candied nuts, and seasonal fruit.
3. Southside Junction Tap House Sriracha, Cheddar, Bacon, Jalapeno Loaded Waffle Fries
In celebration of National Cheese Day, the Southside Junction Tap House is running a special all week long on sriracha, bacon, jalapeno loaded waffle fries .
4.The 304 Bomb Diggity Burger

The 304 bomb-Diggity is their signature burger with house-made pimento cheese. Topped with Applewood smoked bacon and 1/2 pound burger on a brioche bun. It's National Cheese Day, so go ahead and treat yourself to the loaded waffle fries.
5.Pies & Pints Pigbee Goat Pie
We can't make a cheese day list without celebrating all the delicious cheese-covered pies from Pies & Pints. We are highlighting the Pigbee Goat Pie for this holiday. This specialty pie begins with a blend of provolone & mozzarella on their house-made, hand-tossed dough. The crust is finished with roasted garlic oil & a pinch of kosher salt. The Pie is topped with onions, bacon, goat cheese, peppadews, and finished with parmesan, honey, and fresh herbs. Don't let their delicious pizza distract you from their char-grilled wings. The creamy gorgonzola dip is life, just go ahead and dip whatever pie you are eating in it too. You can have cheesecake for dessert.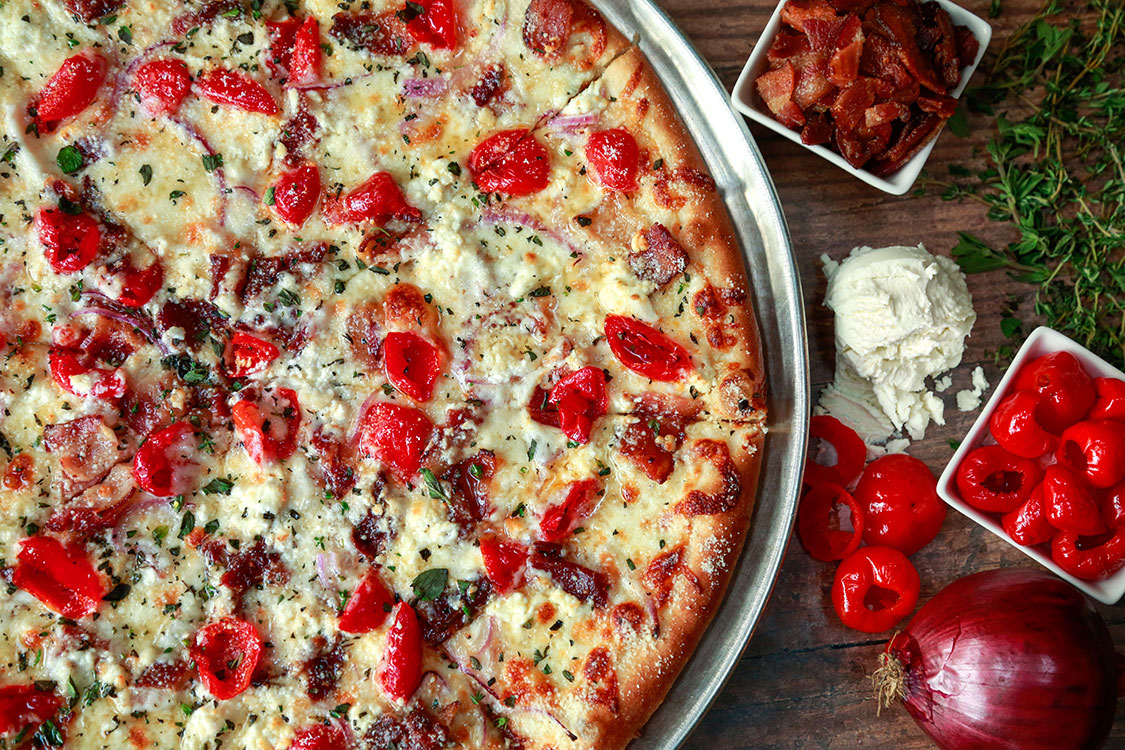 Shhhh…. The secrets out, we can't get enough of the loaded pimento cheese fries from Secret Sandwich Society.
Stop by Studio B to make all your cheese fantasies a reality with the largest selection of gourmet cheeses in town. They have all your cheese accessories covered too, stocked on cheese, meats, crackers, jelly, spreads, stuffed grape leaves, and stuffed olives! Perfect for a simple snack or picnic.
Enjoy nacho chips, smothered in cheese,buffalo chicken dip,lettuce,jalapeño, and scallions.
9. Cathedral Cafe The Ultimate Grilled Cheese
There are lots of delicious breakfast and lunch options smothered with cheesy goodness, but we have to shine a light on the best-grilled cheese in town. Enjoy three kinds of cheese topped with a red onion and tomato.