We want to highlight some of the positive things going down in town this week to bring a smile to your face. Thank you to all the essential folks and helpers who are serving on the front lines and supporting our community! We have lots of exciting things going down this weekend.
Fall Color Update
As we gear up for the 2020 fall color season we are counting on you to help us share and stay up to date on the current colors. Tag us at #visittheville for a chance to be featured with our weekly color updates. This week we are still looking mostly green. We usually hit peak colors in late October.
Stay up to date with the West Virginia color map
Bridge Day Goes Virtual
Celebrate in the spirit of Bridge Day! We are still a bit sad that we cannot have an in-person event this year so we are inviting you to join us to celebrate the spirit and history of Bridge Day on October 17th, 2020. Follow along with us all day to learn more about the event, celebrate those who have made the event what it is today and meet those that aim to make Bridge Day even better next year!Get your raffle tickets for your opportunity to win prize packages from many of our amazing lodging, food, and retail partners of the area, so be sure to tune in periodically for your chance to win!
https://wvtourism.com/seasons/fall/
Allen Dale Sizemore at The Freefolk Brewery
Friday, October 16 7pm-9pm
1st Annual Bridge Day Music Fest at the Pink Pig
9:30-11:30 – Mary Ashton
11:30-1:30 – Burnsville Drive
1:30-3:30 – Jim Snyder
4:00-8:00 – Scott HonakerWe will also be having a corn hole tournament.
Good food, good music, and a good time!
Bridge Day After Party at Charlie's Pub
Saturday, October 17 11pm-2am
We're still celebrating Bridge Day. Andy Tuck from The Greens will be playing solo, not a show you want to miss folks!
Live Music At Great Googly Moogly
Come hang out at the Great Googly Moogly every Wednesday from pm5-6pm. Brian & Drew from the kind Thieves will be playing live music out front of the store. This event is weather permitting.
Ribs & Whisky Weekend
Mask up and come join us!
Our House Grill & Pub at Cantrells Ultimate Rafting will be smoking baby back ribs and offering several whiskey specials on both Friday and Saturday, October 16th and 17th! Our sides will include black and blue mac and cheese, Mexican street corn salad, broccoli Salad and sweet potato corn bread. Maple Bacon Brownies from Honey Blossom Bakeshop!
Live music:
Friday 10/16
The Stacey Carroll Project at 8:000pm!
Saturday 10/17
Liana Dagmar from 7:00pm-8:30pm!Kristen's All-Star Lineup featuring Matt Mullins from 9:30pm-12:30pm!We have plenty of separate heat sources and fire pits with a lot of room to social distance. Feel free to bring a blanket and chairs and call our carryout line to place an order. (304)877-8279
Live Music at Chimney Corner Cafe
Saturday, October 17
Make plans to come and sit under the tin roof on Saturday evening to listen to some AMAZING music!The Stacey Carroll Project! Make plans the will take the stage at 5pm!
Dinner & A Movie Chimney Corner Cafe
Dinner and a movie outside under the tin roof! keep warm with the patio heaters!
Sunday Fun Day at Pinheads
Fayetteville Farmers Market This Saturday
The Fayette County Farmers Market will be set up in the Fayette Courthouse Parking lot for this Saturday from 8:30am to 12:30pm. Come stock up on a variety of fresh goodies from breads to veggies and meats.Yoga On The Gorge Adventures On The Gorge
Halloween & October Events
Enjoy haunted attractions, live music, and lots of spooky fun. Mark your calendar for Friday October 30th for Ghouls Night Out in Fayetteville. Enjoy social distancing fun with business after hours for shopping into the night. There will be special treats for Fayetteville County Chamber Members.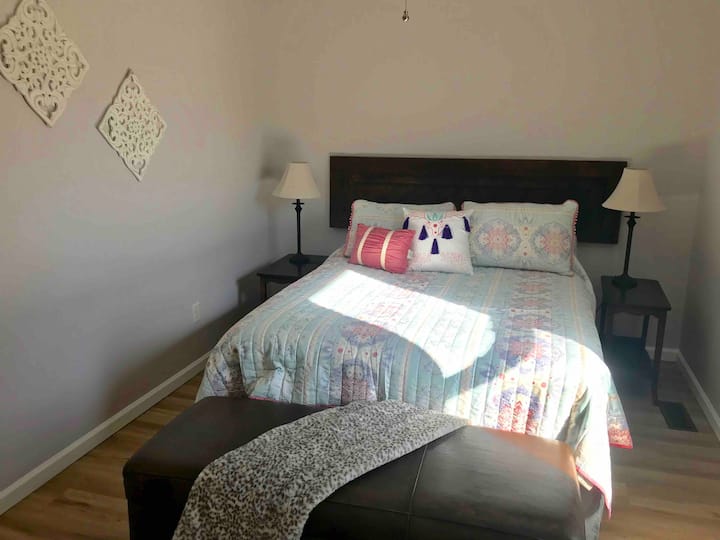 The Bungalow on Maple is located within 2 mile walk to downtown Fayetteville. This cool town has a variety of restaurants, shops, and breweries.
You will be minutes from hiking trails, rafting and endless rock walls of the New River Gorge National Park. Gauley River National River Recreation Area is 25 minutes away! It is a 20 minute drive to Summersville Lake. Check out the Marina for boat, kayak and paddle board rentals. Winter Place is a quick 30 minute drive.
The space
The Bungalow has two queen beds,one twin bed, full size futon and comfy sectional sofa. Fresh Linens and towels are provided. Full Kitchen has a Keurig and Coffee Press. It is well stocked with the basics such as coffee, tea and spices. The Easy Sittin Room and Master Bedroom have Smart TVs. Just for rainy days, there is a Foosball table and board games. Fire up the grill and sit by the fire pit after a long day of exploring. This is the perfect spot for your next adventure!
New River Gorge Creative Residency
***CALLING ALL CREATIVES***⁠⁠Applications for the 2021 New River Gorge Creative Residency are due November 1, 2020!⁠⁠https://lafayetteflats.com/new-river-gorge-creative-residency?fbclid=IwAR18mmH4fLvUt0HKBVFh6AB0gbZ8xGo3Y66W8ZG5K0pd9tqqnnb21oyC8RU
Share Your Stories
We want to see your adventures in Fayetteville, share your adventures by tagging us at #visittheville.
Join Us As A Wifi Access Zone

#Fayettevillewvstrong