We want to highlight some of the positive things going down in town this week to bring a smile to your face. Thank you to all the essential folks and helpers who are serving on the front lines and supporting our community! We have lots of exciting things going down this weekend.
Fall Color Update
As we gear up for the 2020 fall color season we are counting on you to help us share and stay up to date on the current colors. Tag us at #visittheville for a chance to be featured with our weekly color updates. This week we are still looking mostly green. We usually hit peak colors in late October.
Stay up to date with the West Virginia color map https://wvtourism.com/seasons/fall/
Fall Fun Inspiration
Grand Opening Out of The Ashes
104 East Maple Avenue
We are excited to welcome a new shop in town! Out of the Ashes is helping others find the authentic, the bold, and the beautiful in stories that come from out of the ashes…in a retail shop!
Best of West Virginia WV Living 2020 Voting
Time to get in those last-minute votes. It's that time to vote for all your favorite WV things. We appreciate your support and for voting all things Fayetteville!
Live Music At Great Googly Moogly
Come hang out at the Great Googly Moogly every Wednesday from pm5-6pm. Brian & Drew from the kind Thieves will be playing live music out front of the store. This event is weather permitting.
Sunday Fun Day at Pinheads
Fayetteville Farmers Market This Saturday
The Fayette County Farmers Market will be set up in the Fayette Courthouse Parking lot for this Saturday from 8:30am to 12:30pm. Come stock up on a variety of fresh goodies from breads to veggies and meats.Yoga On The Gorge Adventures On The Gorge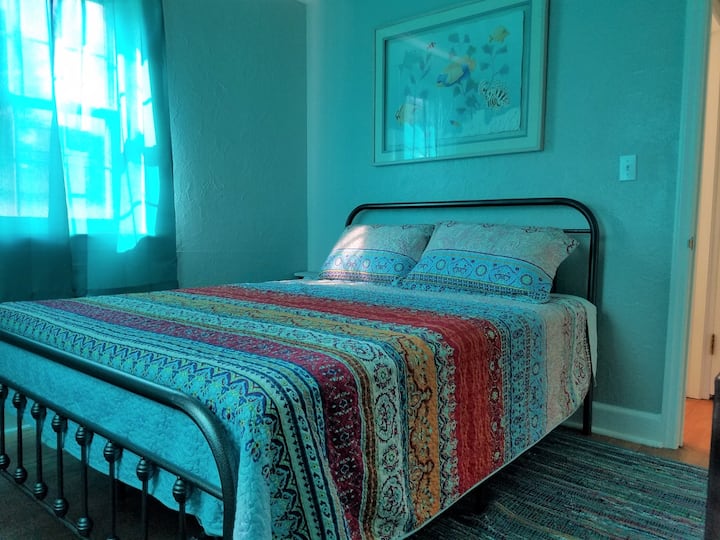 Great location in one of America's Coolest Small Towns. Easy walk to downtown, New River Gorge Bridge, National Park hiking and biking trails.
Turn right and you're a few blocks from downtown Fayetteville. Turn left and you're a few minutes from great hiking and biking trails in the New River Gorge National River area.
Enjoy Bridge Day without the hassle of finding parking. Whatever you enjoy in Southern WV and Fayetteville, we're right in the middle of it.
The space
This charming old house has been updated without losing the charm.
Fully furnished with all the necessities. Bed linens, towels, coffee maker, kitchen utensils, plates and cookware.
Cable and wifi are also included. We cover the basics so you can concentrate on relaxing or enjoying adventures in the New River Gorge area.
Halloween & October Events
New River Gorge Creative Residency
***CALLING ALL CREATIVES***⁠⁠Applications for the 2021 New River Gorge Creative Residency are due November 1, 2020!⁠⁠https://lafayetteflats.com/new-river-gorge-creative-residency?fbclid=IwAR18mmH4fLvUt0HKBVFh6AB0gbZ8xGo3Y66W8ZG5K0pd9tqqnnb21oyC8RU
Share Your Stories
We want to see your adventures in Fayetteville, share your adventures by tagging us at #visittheville.
Join Us As A Wifi Access Zone
Updated Restaurant & Retail List

#Fayettevillewvstrong