We want to highlight some of the positive things going down in town this week to bring a smile to your face. Thank you to all the essential folks and helpers who are serving on the front lines and supporting our community! We have lots of exciting things going down this weekend!
Welcome Rim to River Racers!
We are excited to welcome racers from all over for the first Rim to River Race! 100 miles of wild & wonderful through the heart of the New River Gorge, this out and back ultra is the first 100 mile trail race in West Virginia. The initial event of the Rim to River Endurance Runs, the course consists of winding single track & rail-to-trail from the rim of the Gorge to down along the New River. Along with the natural beauty of waterfalls, whitewater, & dramatic views, you'll also find ghost towns, centuries old cemeteries, & abandoned mine shafts throughout the course. Come experience the New River Gorge like few others have.
https://www.adventureappalachia.org/
Wednesdays
Live Music At Great Googly Moogly
Come hang out at the Great Googly Moogly every Wednesday from pm5-6pm. Brian & Drew from the kind Thieves will be playing live music out front of the store. This event is weather permitting.
The gnomes are back and taking over town. Embark on a scavenger hunt to track down Fayetteville's gnomes to score a little prize.
Bake Sale Fundraiser For Secret Sandwich Soceity
11am-6pm at the Fayetteville Visitor Center
Friends we're asking for your help!
We just learned that one of our favorite places suffered a terrible loss yesterday morning when a fire broke out at Secret Sandwich Society. This will be tough times for so many hard-working folks in the community and Hawk Knob Cindery wants to help out by hosting a fundraiser. A bake sale will be held at the Fayetteville Visitor Center this Saturday, November 7th. All proceeds will go to SSS to help get them through this tough time. Come out and score some delicious sweets for a good cause.
Please get in touch and let us know if you can help donate to this worthy cause! Contact Jason at 304-651-4413 or email jason@hawkknob.com
Friday Freebie at Wild Art & Wonderful Things
Friday Freebie!
Spend $35 get a free unicorn glass!
Perfect for any magic bubbly of your choice… We filled ours with some of our delicious Spiced Hibiscus Kombucha!
Live Music Chimney Corner
Live Music at The Pink Pig
SATURDAY, NOVEMBER 7th ALLEN AVE WILL BE PERFORMING LIVE FROM 3:00 PM TO 5:00 PM!
Our special will be chicken bog!
Sunday Fun Day at Pinheads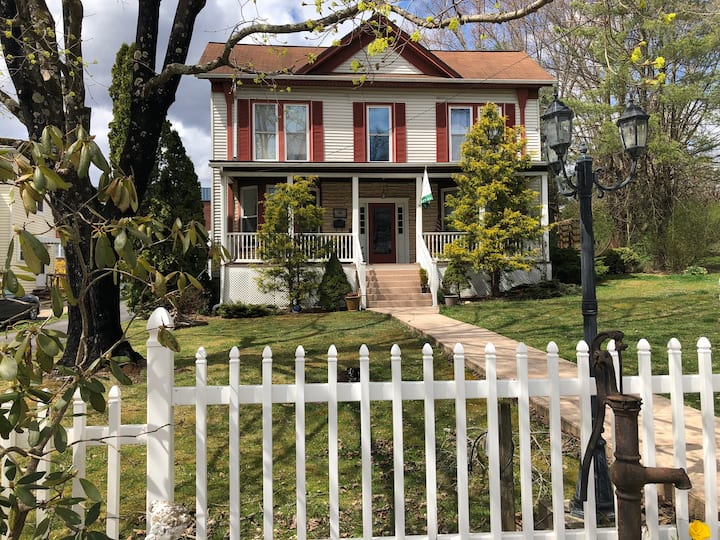 This historic home site combines both location and luxury. With an abundance of outdoor entertaining areas and a fully renovated state of the art kitchen you will find everything you need at the "Hunsaker house."
Conveniently located next to the best biking, climbing and rafting that Fayetteville has to offer. This home is also within blocks of Fayetteville's restaurants, bars and downtown shops. Park and play for a weekend in style. Pets welcomed upon approval. Thank's for considering!
The space
This house was once Home to boxing legend Tunny Hunsaker who was Muhammad Ali's first professional boxing opponent. Built in 1898, this home is been renovated throughout to make it as comfortable as possible for Guest.
The home includes a private office for any "work-related" situations or perhaps privacy for reading and relaxing. Enjoy a two-person outdoor shower with wand and hot water for cleaning all of your outdoor equipment and selves.
Share Your Stories
We want to see your adventures in Fayetteville, share your adventures by tagging us at #visittheville.
Join Us As A Wifi Access Zone
#Fayettevillewvstrong