We want to highlight some of the positive things going down in town this week to bring a smile to your face. Thank you to all the essential folks and helpers who are serving on the front lines and supporting our community! We have lots of exciting things going down this weekend!
Out of The Ashes 12 Days of Christmas Deals
Out of the Ashes is celebrating the holidays with a new deal everyday with the 12 Days of Christmas Deals countdown.
Cathedral Cafe Offers Christmas Treat Ordering
The Station Holiday Sides & Dessert
Let the Station take care of all the work for the holidays by pre ordering sides and desserts.
Holiday Fun
Looking for ideas of things to do during the holiday season? We have plenty of socially distanced holiday fun lined up. Let the holiday festivities begin by experiencing a winter getaway in the mountains. Downtown Fayetteville is glowing this holiday season. Our local shops are packed with special one o fa kind locally made gifts and unique finds for all tastes.
https://visitfayettevillewv.com/holiday-fun-fayetteville-things-to-do-2/embed/#?secret=yL7kBgFlow
Wreaths Across America
December 19
Mark your calendars, this event will go on rain, snow or shine. Saturday, December 19, 2020 at noon we will have our Wreaths Across America Ceremony and placement of all 702 wreaths immediately following. Just a few notes to answer questions you may have:
1. The gate to the cemetery will be closed at 11 am and the Town Park entrance will be used to enter the cemetery until after the service.
2. We encourage everyone to wear a mask and practice good social distancing.
3. Parking will be available at the Fayette Town Park, little league and senior league ball field areas.
4. Please be mindful of those that need to park closer to the cemetery entrance.
5. You may drop folks off at the cemetery entrance, and then proceed to the designated parking area.
6. Golf carts will be available for those who have difficulty walking to transport them from the parking area to the cemetery entrance and back.
7. Following the opening ceremony, golf carts will be available in the cemetery to help get those folks that need assistance to the area where their Veteran loved one is buried.
8. Following the placement of wreaths warm hot chocolate will be available at the front area of the cemetery office.
9. The gate between the little league ball field parking area and the cemetery will be open for folks to walk through.We want to thank our community, businesses, civic groups, churches and residents for making this event a success. This is the second year and again every veteran laid to rest at Huse Memorial Park will be honored with a wreath!Thanks, Cathy Jo
Cathy Jo Bryant | GFWC West Virginia First Vice President
646 Browns Road | Fayetteville, West Virginia 25840
Telephone: 304.574.0028 (h) 304.663.9100 (c)
General Federation of Women's Clubs – Dedicated to Community Improvement by Enhancing the Lives of Others through Volunteer
Winter Wonderland Light Display at the Fayette County Park
Make sure you check out the Winter Wonderland Light Display at the Fayette County Park. This drive through experience is a perfect way to enjoy some social distanced holiday fun.
Yearning for a getaway but nervous about traveling? At Lafayette Flats, we've created a space where you can unwind with peace of mind in clean, tranquil, and spacious boutique vacation rentals. ⁠⁠But best of all, you can experience the refreshing relaxation that comes from hiking and exploring in this gorgeous Appalachian forest.⁠ Wintertime is the perfect time to cozy up in one of the Flats.
Lafayette Flats is four art-filled boutique vacation rental properties located within a renovated historic building in the heart of Fayetteville, West Virginia. The Flats are designed to serve as a home away from home for visitors to the New River Gorge.
Gift Cards Available
Give the gift of a wonderful experience to the special people in your life. A luxurious stay at Lafayette Flats in the coolest small town of Fayetteville, West Virginia is the perfect gift for birthdays, holidays, weddings, anniversaries, and babymoons.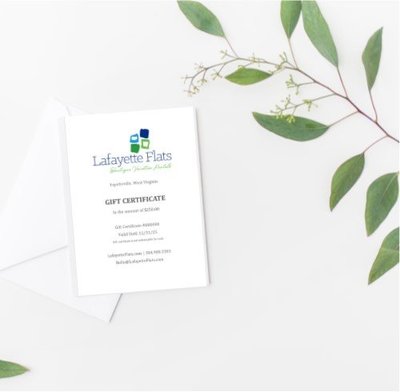 Share Your Stories
We want to see your adventures in Fayetteville, share your adventures by tagging us at #visittheville.
Join Us As A Wifi Access Zone
Women's Group Ride at Arrowhead Bike Farm

We are excited to announce our Weekly Women's Group Ride will be moving to Sundays!
Sundays at 3 pm, Erin Larsen and Sarah Coffey will be leading a beginner to intermediate ride for women who are looking to ride with other women, explore the Arrowhead Trails with a group, and have a good time!
Meet at the Bike Farm at 3:00 if you would like to ride the intermediate trails or meet at 3:30 at the Arrowhead Trailhead to focus on those fundamental skills on easier trails. The length of the ride will depend on the group but will range from 6-8 miles.
Come join the awesome community of women riders in the NRG!