We want to highlight some of the positive things going down in town this week to bring a smile to your face. Thank you to all the essential folks and helpers who are serving on the front lines and supporting our community! We have lots of exciting things going down this weekend.
Social Distancing Adventure Highlight: Escape-A-Torium
Beat the heat with an Escape-A-Torium- Adventure with your family. Escape rooms are 60-minute indoor group adventures that challenge you you to complete a mission, complete an important task, or "escape" the room. All escape adventures are private. You will not be joined by other players you can complete waivers in advance. Everyone, Cluemasters included, will wear masks. Participants can remove masks during their adventure if they choose. High touch surfaces in the Escape Adventures, bathrooms, and lobby will be sanitized after every adventure.
Weekend Events
Friday 7/10
Live Music Chimney Corner Cafe
Climbing Podcast at Charlie's Pub
Saturday 7/11
Fayetteville Farmers Market This Saturday
The Fayette County Farmers Market will be set up in the Fayette Courthouse Parking lot for this Saturday from 8:30am to 12:30pm. Come stock up on a variety of fresh goodies from breads to veggies and meats.
Poor Taters, Emmy Davis, Junction 598 at Cantrell's
Sunday 7/12
Yoga On The Gorge Adventures On The Gorge
All Weekend
River Chick Food Truck at Bridge Brew Works
River Chick Food Truck will be serving our fresh, seasonal delights now through Sunday at the brewery. Outdoor dog friendly and kid-friendly dining.
Twisted Sisterz BBQ Will Be Set Up at The Freefolk Brewery This Weekend
This weekend we will have some special guests! Twisted Sisterz BBQ will be serving up some awesome backyard bbq, and we will be featuring two guest taps: Weathered Ground's Cool Ridge Lager and Swilled Dog's Walk the Dog hard cider! @weatheredgroundbrewery @swilleddog @twistedsisterzbbq @ The Freefolk Brewery
Monday
Wing Night with Jonah Carden at Adventures On The Gorge
Upcoming Events
Historic Fayette Theater Virtual Performances
We Are Coming Back …. In A New & Exciting Different Way:
Throughout the nation, the arts world has responded to the limitations of the COVID 19 crisis with creative solutions to presenting performances. The Historic Fayette Theater has joined in this effort and is going to begin presenting innovative, on-line performances starting in July.
"We realized that we could not offer the theatre season we had planned," stated HFT President, Jack Crosier. "While it would be possible to limit audience numbers and seat groups socially distant from other groups, it would not be possible to keep the actors socially distant backstage." Crosier went on to say that while all on-stage concerts and theatre performances at the Historic Fayette Theatre would be cancelled for the year, the Theatre will begin presenting theatrical performances on-line.
The first play on Zoom that will be presented will be directed by HFT veteran Gene Worthington. The play, Virtual Complaint Department and Lemonade, is a comedy written specifically for the Zoom platform. "This is an opportunity for our community theatre group to participate in an activity they love and learn a whole new technology." Worthington went on to say that video conferencing platforms have developed fresh and inventive ways to enjoy the performing arts. "Audiences and performers alike will have the chance to share in this new experience." Worthington added.
Virtual Complaint Department and Lemonade will be performed this July, specific dates to be determined. Additional shows may include a Halloween and a Christmas performance. "Of course we are anxious to be able to perform on stage in front of live audience again," stated Worthington, "But who knows? Maybe there will be a continued place for virtual performances in the future." Worthington speculated about the possibility of bringing audiences to the computer who can't travel far or don't want to be out because of bad weather. "It could be a benefit for rural communities like ours."
Tickets for on-line shows will be $5.00 and will be available on PayPal. At this time, the physical box office will not be open. For more information, contact the Historic Fayette Theater at (304) 574-4655 or check out their Facebook page
Freefolk Brewery Introduces Cosmic Calculations Named In Honor Of Katherine Johnson
Introducing Cosmic Calculations!Our newest galaxy hop IPA named to honor West Virginia native Katherine Johnson. Her calculations were paramount to the success of many of NASA's space missions. Celebrate her life with us here at the taproom this weekend or at these locations: @roadhogswv @hillandhollerao @smokeysonthegorge @reddogsaloon @arrowheadbikefarm @southsidejunctiontap @fruthpharmacy @wineshopwv @thepallet.bar @lolaspizza_wv @tapsatheritage17 @ The Freefolk Brewery
Rock Kindness
We are hosting a community art project at the Fayetteville Visitor Center. Help us spread the love by painting rocks with us. The rocks will be placed around the kiosk at the visitor center. We encourage you to create images that promote kindness and love. Feel free to write positive messages. We are hoping to create a rainbow of colors. We encourage all ages to participate. We will have a no contact rock drop off box on the visitor center porch. If you need access to paint and supplies shoot us a message and we can get you supplies to join in the fun. We will be collecting rocks all month long.
Summer Fun In The Parks Adventure Days
Tuesdays programming is aimed at younger kids at the Fayetteville Town Park and Wednesdays programming is aimed for tweens and teens at the Fayette County Park.
WHERE: Fayetteville's Town Park & Fayette County Park
WHAT: Outdoor Activities for Kids
WHEN: Activities will be planned for each Tuesday for the rest of the Summer for younger kids at Fayetteville Town Park! Tweens and teens sessions on Wednesdays at Fayette County Park.
Charlie's Pub Is Open
We are excited to see Charlie's Pub back in action. Congrats Jay Stewart!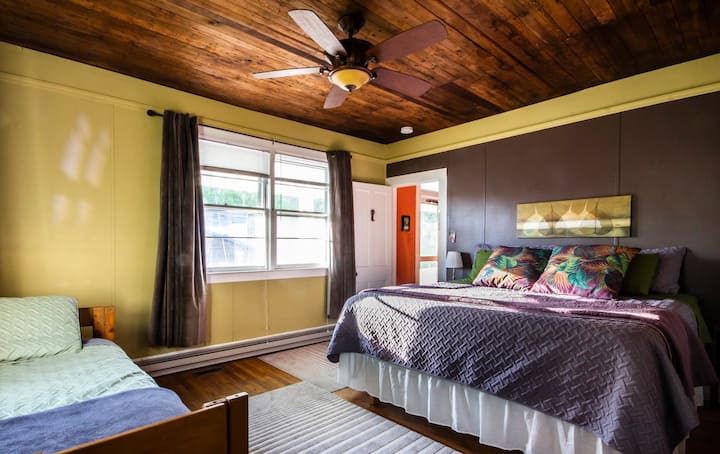 This house is right in the middle of the sweet little town of Fayetteville, and it is also in the center of the New River Gorge area, making it extremely easy to enjoy the best whitewater, climbing, hiking and biking in the east! From the house, walk to a variety of restaurants and shops! Outdoor enthusiasts will especially enjoy the numerous hiking and mountain biking trails, rock climbing opportunities, along with zip lining and canopy tours! If you're looking for an adrenaline rush, take a tour under the New River Gorge Bridge! With so much to do just minutes from the property, you're bound to have unforgettable adventures while staying at this fantastic vacation rental house! The High Country House is taking extra precautions with a complete anti-viral scrub down by a professional cleaning company before every guest stay.
It is the perfect oasis in the middle of Fayetteville, in the heart of the New River Gorge Recreation Area. Cross the street to Secret Sandwich Society, Station, and the Grove. Walking distance to all other Fayetteville fun. Sunny front porch for morning coffee, gas fire pit, and grill for evening fun, 3 bd/3ba – plenty of space for everyone.
Built in 1900, this lovely home retains its old house charm with great modern updates. Inside, the home boasts 1,840 square feet of tastefully decorated living space, featuring everything needed in a true home-away-from-home. Lounge on the comfy couches in the living area during your downtime, or take a seat at the bar in the kitchen area while the chef of the group cooks up a tasty meal in the fully equipped kitchen!
Share Your Stories
We want to see your adventures in Fayetteville, share your adventures by tagging us at #visittheville.
Updated Restaurant & Retail List
#Fayettevillewvstrong
We love our little slice of almost heaven and our community is what makes this place so special. Over the coming weeks and months, our favorite restaurants, shops, places to stay and places to play in our beloved town are going to see a decline in visitors. Our little town is dependent on tourism so we are especially going to take a hit. Our small businesses need us now more than ever. #Fayettevillewvstrong is a movement to support our town and community.
You can help in lots of ways: ordering food to go, shopping online, tipping well, buy a gift card, leave a positive review, or just spread the word about your favorite small business and the #fayettevillewvstrong campaign. We are an outdoorsy close-knit town and we will be utilizing our strengths. You will see more businesses utilizing outdoor spaces. Please be patient with us as we navigate new changes and try to keep each other safe.