We want to highlight some of the positive things going down in town this week to bring a smile to your face. Thank you to all the essential folks and helpers who are serving on the front lines and supporting our community! We have lots of exciting things going down this weekend. Social Distancing
Adventure Highlight: Wonderland Waterpark at ACE Adventure Resort
If you are looking for a fun way to stay cool check out Wonderland Waterpark with 5 acres of fun on a spring-fed lake. This attraction is just a short drive from Fayetteville. Waterslides. Ziplines. Turn the kids loose, and let them run wild. Climb giant inflatable mountains, and jump into the lake. Splashdown from the tower on our lake zip line, or launch your friends into the water on the infamous BLOB feature. When you're done racing down our 200' twin water slides and jumping on trampolines, kick back on the beach with a slice of wood-fired pizza to watch the sunset. There is even a splash pad. Tickets must be purchased in advance with a daily limit. Water park guest temperatures will be checked and must be below 100.4 degrees to enter the waterpark as instructed by West Virginia state regulations.
Fayetteville Farmers Market This Saturday
The Fayette County Farmers Market will be set up in the Fayette Courthouse Parking lot for this Saturday from 8:30am to 12:30pm. Come stock up on a variety of fresh goodies from breads to veggies and meats.Yoga On The Gorge Adventures On The Gorge
Our House Grill with Matt Mullilns
This local restaurant is getting creative with a new plexiglass installation and the outdoor stage. Enjoy live music with Matt Mullins this Saturday, August 1st, 7:30-10:30pm. This show will take place on our outdoor stage. We do have quite a bit of outdoor seating but we also have a limited capacity due to following the guidelines. Get here early and enjoy our new menu and grab a seat!
Chimney Corner Cafe with Shawn Benfield
Digital Performances by Andrew Adkins
Andrew will be going live Friday night at 8pm to talk about new music. The wild rumpus. Future online shows. Any questions you may have. Play a few songs. (Any you like). I hope you tune in!
The Chimney Corner Cafe will have live music with limited outdoor seating this Saturday, from 5 pm to 8:30 pm
Wing Night at Chetty's Pub Adventures On The Gorge with Matt MullinsWing Night with Matt Mullins!
Stop by Monday at Chetty's Pub for Wing Night and live music outdoors.
Twisted Gypsy's
Twisted Gypsy's has been a beautiful addition to the town and we are heartbroken to see it close. Thank you Kim for all the work you have put into Twisted Gypsy's and for everything you have done for our town. You are a beacon of light and we can't wait to cheer you on in your future endeavors. The good news is you have a few more chances to stop in the shop and stock up. Next week kicks off a HUGE closing sale.
Twisted Gypsy's will be open FRIDAY JUNE 31st & SATURDAY AUG. 1st…12-4.
NEXT WEEK…
TUESDAY-SATURDAY…
11-4. Next week kicks off HUGE CLOSING SALE! Stay tuned for photos & more info!
Summer Fun In The Parks Adventure Days
Tuesdays programming is aimed at younger kids at the Fayetteville Town Park and Wednesdays programming is aimed for tweens and teens at the Fayette County Park.
WHERE: Fayetteville's Town Park & Fayette County Park
WHAT: Outdoor Activities for Kids
WHEN: Activities will be planned for each Tuesday for the rest of the Summer for younger kids at Fayetteville Town Park! Tweens and teens sessions on Wednesdays at Fayette County Park.
Coda Engage
Coda Engage starts next week!! Your child can explore learning in an active, Covid-19 safety-conscious environment. Join us in Robotics, Permaculture, Music, Art, Reading, and Math on a brand new campus! Wednesday: Grades 3-4Tuesday/Thursday: Grades 5-8Sign up now at codamountain.com!*Limited enrollment due to extra safety precautions*August 5-27, 202019 Maple Ln, Fayetteville, WV
Lodging Highlight: The Keller House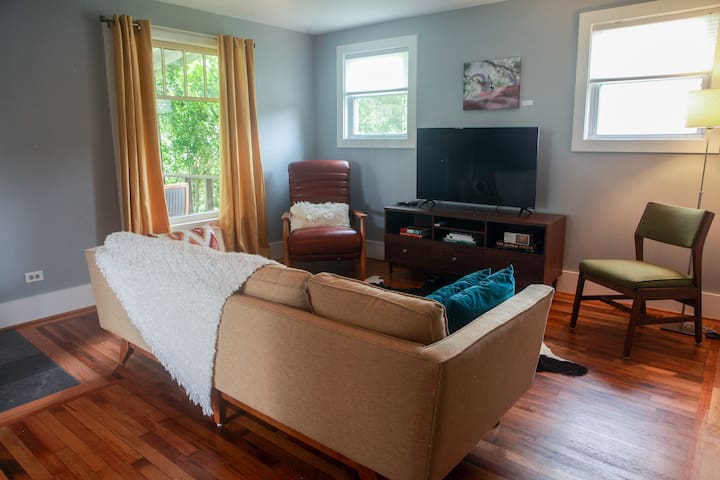 This newly remodeled mid-modern home located in hip South Keller neighborhood is ideal for those wanting to experience the best of Fayetteville. 117 Keller Ave is right next to favorite local eats and no more than a five minute walk to the town center and shops. Guests are also half a mile to the Fayetteville town trails which provide access to sought out views of the New River Gorge like Long Point. Perfect for anyone looking to adventure like a local and in style.
The space
Freshly refinished antique hardwood floors with vintage and mid-mod furnishings make this a comfortable habitat to relax after a day of New River adventuring. The Keller House also features local art that rotates seasonally and is available to take home if you choose. Watch Apple TV on the 50″ 4K TV or have a drink on the porch in proper SoKel style. Great sunset views behind the gas station. Brand new AC.
New River Yoga Schedule
New River Yoga has a new teacher, Brooke Puchi, let's welcome her. Trust me, you want to take a class from her
. •Monday 5:30pm Low and Slow Yoga with Brooke Puchi. Rain may relocate class to studio.
•Monday 7pm All Levels with Candace Evans at the AOTG pool deck. Rain location the studio.
•Tuesday 9-10am Yoga on the ATOG decks with Candace (free for AOTG staff).
•Tuesday 5:30pm Gentle Beginners through Zoom with Geoff Heeter Join us on zoom for a free class meeting ID 87245576765
•Wednesday 9-10am Morning Movement with Brooke.
•Wednesday 5pm Yoga for Athletes through Zoom with Janet.
•Thursday 5:30pm Humble Heart Yoga with Candace. This class is going to be held at Farm called CROW in the barn. Kids welcome!!! 4340 Gatewood Road. Trust that you won't be disappointed.
•Sunday 9-10am Yoga on the Gorge on the AOTG pool deck with rotating teachers. Erin is back this week. Rain we will relocate somewhere around a covered area near pool.
Kula's closet in New River Yoga is open from 12-3 Saturday and Sunday and by appointment 3046408479. Please register and pay through the MINDBODY app. You can also pay the teacher. Classes are $15 and the "Industry" rate is $10.
Share Your Stories
We want to see your adventures in Fayetteville, share your adventures by tagging us at #visittheville.
Updated Restaurant & Retail List

#Fayettevillewvstrong
We love our little slice of almost heaven and our community is what makes this place so special. Over the coming weeks and months, our favorite restaurants, shops, places to stay and places to play in our beloved town are going to see a decline in visitors. Our little town is dependent on tourism so we are especially going to take a hit. Our small businesses need us now more than ever. #Fayettevillewvstrong is a movement to support our town and community.
You can help in lots of ways: ordering food to go, shopping online, tipping well, buy a gift card, leave a positive review, or just spread the word about your favorite small business and the #fayettevillewvstrong campaign. We are an outdoorsy close-knit town and we will be utilizing our strengths. You will see more businesses utilizing outdoor spaces. Please be patient with us as we navigate new changes and try to keep each other safe.