We want to highlight some of the positive things going down in town this week to bring a smile to your face. Thank you to all the essential folks and helpers who are serving on the front lines and supporting our community! We have lots of exciting things going down this weekend.
Making A Difference Monday Highlighting Ben Franklin
Officer Rescues Baby Skunk From Skate Park
Officer Maynor was flagged down by a concerned citizen while on toutine patrol. The citixen observed a juvenile skunk in one of the bowls in the Fayetteville skate park. Officer Maynor swiftly rescued the skunk and relocated it from the skate park.
Secret Sandwich Society Offering Free Wifi For Those Without Reliable Internet Access
Local Restaurant Offers Free Meals To Those In Need
With the aftermath of the pandemic, The Burrito Bar of Breeze Hill has reached out to the community offering free meals for those in need. Ryan Walters says people can call the restaurant at (304) 574-2750 or message the Burrito Bar's Facebook page for assistance with meals.
The Town of Fayetteville Gives Away All The Desks And Furniture In Old School Buildings
The Station Hosts Riverchick Farm Food Truck This Weekend
Riverchick Food Truck will be set up in The Station's parking lot across from the visitor center all this Friday through Sunday serving up farm fresh favorites.
New art pieces have arrived from @garyinwvand are on display in The Grove! Plus new stuff from @mulliwater @thebringdowns #art#localart#wvart#wvartists @ Secret Sandwich Society
Fayetteville Farmers Market This Saturday
The Fayette County Farmers Market will be set up in the Fayette Courthouse Parking lot for this Saturday from 8:30am to 12:30pm. Come stock up on a variety of fresh goodies from breads to veggies and meats.Yoga On The Gorge Adventures On The Gorge
Our House Grill & Pub Live Music with Randy Gilkey Saturday
Come out and see Randy Gilky this Saturday at Our House Grill & Pub at Cantrells from 7:30pm-10:30 pm.
Chimney Corner Cafe Live Music All Weekend
Randy Gilkey LIVE Friday, August 21@ Chimney Corner Cafe!!! Music starts at 6pm! Check out Krista Hughes LIVE at 5:00pm-8:30pm Saturday.
Pinheads Reopens
If you are looking for a fun way to beat the heat Pinheads is just a short drive from Fayetteville. Pinheads is ready to roll and we are excited to see them back open!! The full menu is up and they have a new scoring system with automatic bumpers for even more fun, patio, and carry out available. It looks like the end of September for our synthetic lane install, but the wood lanes are ready for you! Reservations recommended. Come have some fun!
Pop Up Nature Center
This year Fayetteville's Nature Festival is taking a new direction. Our traditional event will not take place due to safety concerns surrounding Covid 19. We will be hosting a pop-up Nature Center through the month of August at the Fayetteville Visitor Center. We will have a few special guests popping in throughout the month. Stay tuned to our facebook page where we will be sharing nature moments throughout the month with special guests.
Twisted Gypsy's
Twisted Gypsy's has been a beautiful addition to the town and we are heartbroken to see it close. Thank you Kim for all the work you have put into Twisted Gypsy's and for everything you have done for our town. You are a beacon of light and we can't wait to cheer you on in your future endeavors. The good news is you have a few more chances to stop in the shop and stock up. Next week kicks off a HUGE closing sale.
Hours
TUESDAY-SATURDAY…
11-4.
Summer Fun In The Parks Adventure Days
Coda Engage
Your child can explore learning in an active, Covid-19 safety-conscious environment. Join us in Robotics, Permaculture, Music, Art, Reading, and Math on a brand new campus! Wednesday: Grades 3-4Tuesday/Thursday: Grades 5-8Sign up now at codamountain.com!*Limited enrollment due to extra safety precautions*August 5-27, 202019 Maple Ln, Fayetteville, WV
Lodging Highlight: Casatano
The Casatano is the perfect place to stay and relax after spending the day outside in the New River Gorge. Located in a quiet neighborhood in downtown Fayetteville, guests can walk to top-notch restaurants and shops.
The home is surrounded by a white picket fence, which allows children to play safely or pets to roam freely. With three bedrooms it will work perfectly for families and friends who have come to enjoy what the New River Gorge has to offer.
The space
Casatano has been slowly and carefully renovated over the past eight years. It was built in 1896 and still carries a lot of charm and character for an older Victorian house. Many updates have been made to accommodate the modern family. The kitchen and dining room were opened as one big space, which is perfect for gathering and dining together.
The kitchen has all the appliances you will need to create delicious meals: french press, coffee grinder, double oven and stove, microwave, dishwasher, blender, pots, and pans. A washer and dryer are available for guest use as well.
When you are in need of a good night's rest, retreat to one of the three bedrooms. The downstairs bedroom has wonderful natural light and when all the windows are open in the summer, guests will feel like they are outside enjoying the cool breeze and birds chirping in the morning. The two bedrooms upstairs are spacious and each come with their own unique style (there are window air-conditioning units in these rooms). The master bedroom offers a king-sized bed with a reading alcove. The third bedroom offers bunkbeds (perfect for kids). Another room downstairs houses a futon for one person. Linens are provided for each of these rooms.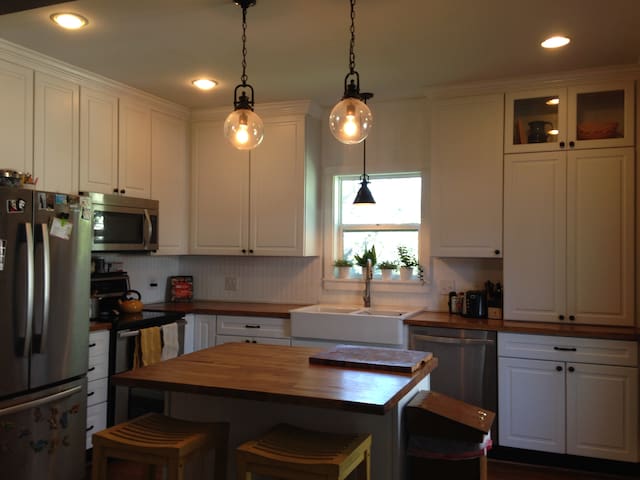 New River Yoga Schedule
New River Yoga has a new teacher, Brooke Puchi, let's welcome her. Trust me, you want to take a class from her
. •Monday 5:30pm Low and Slow Yoga with Brooke Puchi. Rain may relocate class to studio.
•Monday 7pm All Levels with Candace Evans at the AOTG pool deck. Rain location the studio.
•Tuesday 9-10am Yoga on the ATOG decks with Candace (free for AOTG staff).
•Tuesday 5:30pm Gentle Beginners through Zoom with Geoff Heeter Join us on zoom for a free class meeting ID 87245576765
•Wednesday 9-10am Morning Movement with Brooke.
•Wednesday 5pm Yoga for Athletes through Zoom with Janet.
•Thursday 5:30pm Humble Heart Yoga with Candace. This class is going to be held at Farm called CROW in the barn. Kids welcome!!! 4340 Gatewood Road. Trust that you won't be disappointed.
•Sunday 9-10am Yoga on the Gorge on the AOTG pool deck with rotating teachers. Erin is back this week. Rain we will relocate somewhere around a covered area near pool.
Kula's closet in New River Yoga is open from 12-3 Saturday and Sunday and by appointment 3046408479. Please register and pay through the MINDBODY app. You can also pay the teacher. Classes are $15 and the "Industry" rate is $10.
Share Your Stories
We want to see your adventures in Fayetteville, share your adventures by tagging us at #visittheville.
Updated Restaurant & Retail List

#Fayettevillewvstrong
We love our little slice of almost heaven and our community is what makes this place so special. Over the coming weeks and months, our favorite restaurants, shops, places to stay and places to play in our beloved town are going to see a decline in visitors. Our little town is dependent on tourism so we are especially going to take a hit. Our small businesses need us now more than ever. #Fayettevillewvstrong is a movement to support our town and community.
You can help in lots of ways: ordering food to go, shopping online, tipping well, buy a gift card, leave a positive review, or just spread the word about your favorite small business and the #fayettevillewvstrong campaign. We are an outdoorsy close-knit town and we will be utilizing our strengths. You will see more businesses utilizing outdoor spaces. Please be patient with us as we navigate new changes and try to keep each other safe.
Check Out More Good News!