We want to highlight some of the positive things going down in town this week to bring a smile to your face. Thank you to all the essential folks and helpers who are serving on the front lines and supporting our community! We have lots of exciting things going down this weekend. 
Local Baker Honey Blossom Bake Shop Supports Local Artist With Cupcake Special Fundraiser
The Grove Seeks Records To Support WV Artists
WV MUSICIANS ONLY!!! Matt Mullins & The Bringdowns have sparked a fantastic idea! The Grove would like to sell Vinyls/CD's/Tapes from WV ONLY musicians! We will purchase 5-10 of whatever form of recorded music you have for sale. Let's keep it to your MOST CURRENT MUSIC within reason. You will be paid UPFRONT, then we will sell the goods. I don't have a ton of capital to get started so we'll start with low numbers and see how this goes! You can bring your stuff to The Grove, we'll cut you a check and BAM, we're in business!!
New art pieces have arrived from @garyinwvand are on display in The Grove! Plus new stuff from @mulliwater @thebringdowns #art#localart#wvart#wvartists @ Secret Sandwich Society
Sheriff Fridley Presented Calvin Endicott, a proclamation at the Fayetteville City Council Meeting for His Heroic Aid Assisting and Officer
I had the honor and privilege to present to Mr. Calvin Endicott, a proclamation tonight at the Fayetteville City Council meeting.I can't think him enough for his heroic aid and assistance to Deputy Sheriff Levi Garretson.Well done young man!!!Sheriff Mike Fridley
Fayetteville Farmers Market This Saturday
The Fayette County Farmers Market will be set up in the Fayette Courthouse Parking lot for this Saturday from 8:30am to 12:30pm. Come stock up on a variety of fresh goodies from breads to veggies and meats.Yoga On The Gorge Adventures On The Gorge
The Goats Are Baaaaack at Thurmond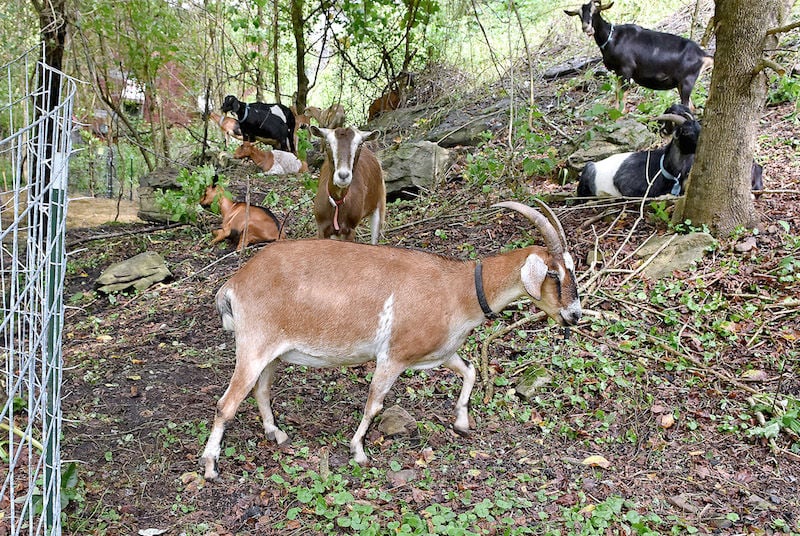 The Thurmond goats are back for their third and final year in a row! This year the goats will be here for ninety days and have the important task of eating the remaining invasive plants within the Thurmond Historic District. Many non-native invasive plants threaten historic structures within the goats' three acre buffet, particularly the invasive vine kudzu. Kudzu and other invasive plants not only pose a threat to the structures by growing atop of and weakening foundations, but by also increasing fuel loading for possible wildfires. After three years of goat grazing we hope to see the invasive plants stressed enough so that they will not be able to outcompete native plants and grasses that will be planted after the grazing is completed.
Our House Grill with Matt Deal
This local restaurant is getting creative with a new plexiglass installation and the outdoor stage. Enjoy live music with Matt Deal this Saturday, August 1st, 7:30-10:30 pm. This show will take place on their outdoor stage. They have quite a bit of outdoor seating but we also have a limited capacity due to Covid guidelines. Get here early and enjoy our new menu and grab a seat!
Chimney Corner Cafe with Brian Cantley and Matt Mullins
Check out Chimney Corner Cafe this weekend. They have music planned for both Friday and Saturday night! The music starts at 5:00pm both nights. Friday evening come out and listen to BRIAN CANTLEY from 5 -8pm. And then on Saturday come check out MATT MULLINS from 5-8pm!
Pop Up Nature Center
This year Fayetteville's Nature Festival is taking a new direction. Our traditional event will not take place due to safety concerns surrounding Covid 19. We will be hosting a pop up Nature Center through the month of August at the Fayetteville Visitor Center. We will have a few special guests popping in throughout the month. Stay tuned to our facebook page where we will be sharing nature moments throughout the month with special guests.
Twisted Gypsy's
Twisted Gypsy's has been a beautiful addition to the town and we are heartbroken to see it close. Thank you Kim for all the work you have put into Twisted Gypsy's and for everything you have done for our town. You are a beacon of light and we can't wait to cheer you on in your future endeavors. The good news is you have a few more chances to stop in the shop and stock up. Next week kicks off a HUGE closing sale.
Hours
TUESDAY-SATURDAY…
11-4. Next week kicks off HUGE CLOSING SALE! Stay tuned for photos & more info!
Summer Fun In The Parks Adventure Days
Coda Engage
Your child can explore learning in an active, Covid-19 safety-conscious environment. Join us in Robotics, Permaculture, Music, Art, Reading, and Math on a brand new campus! Wednesday: Grades 3-4Tuesday/Thursday: Grades 5-8Sign up now at codamountain.com!*Limited enrollment due to extra safety precautions*August 5-27, 202019 Maple Ln, Fayetteville, WV
Lodging Highlight: The Morris Harvey House
Treat yourself to an unforgettable stay at the Historic Morris Harvey House Bed and Breakfast. Nestled in the quiet, historic downtown of Fayetteville. The Morris Harvey House is a charming place to unwind and take a "Step Back in Time" to a time when life was simpler and less hectic.
The Historic Morris Harvey House was built by R. H. Dickinson and completed in 1902 for Morris and Rosa Harvey. This 3-story, 14-room Queen Anne-style house has five guest areas, seven fireplaces and two antique bathrooms with clawfoot tubs and water closets.
One of the first homes in town to have running water, this house was equipped with an elaborate water gathering system. Rain water was caught running down the roof and directed into an 800 gallon copper cistern which is still located on the second floor.
After the death of Morris Harvey, the house stayed in the Harvey family until 1931. From 1931 to 1953, it served as the parsonage for Methodist ministers. For the next 40 years, there were various owners.
In 1993, the house was purchased by Elizabeth Bush and her husband George Soros. Under their ownership, the house went through extensive renovations, including the restoration of the seven original oak fireplaces with Italian tile. Since 1994, the house has served as a bed and breakfast inn. The inn is currently owned by Bernie J. Kania Jr. and his family. They continue the high standard of customer service that is a trademark of the Historic Morris Harvey House.
The Morris Harvey House has been placed on the Register of Historic Places by the Department of Interior and has appeared in numerous newspaper and magazine articles, including the book "Historic Inns of West Virginia".
New River Yoga Schedule
New River Yoga has a new teacher, Brooke Puchi, let's welcome her. Trust me, you want to take a class from her
. •Monday 5:30pm Low and Slow Yoga with Brooke Puchi. Rain may relocate class to studio.
•Monday 7pm All Levels with Candace Evans at the AOTG pool deck. Rain location the studio.
•Tuesday 9-10am Yoga on the ATOG decks with Candace (free for AOTG staff).
•Tuesday 5:30pm Gentle Beginners through Zoom with Geoff Heeter Join us on zoom for a free class meeting ID 87245576765
•Wednesday 9-10am Morning Movement with Brooke.
•Wednesday 5pm Yoga for Athletes through Zoom with Janet.
•Thursday 5:30pm Humble Heart Yoga with Candace. This class is going to be held at Farm called CROW in the barn. Kids welcome!!! 4340 Gatewood Road. Trust that you won't be disappointed.
•Sunday 9-10am Yoga on the Gorge on the AOTG pool deck with rotating teachers. Erin is back this week. Rain we will relocate somewhere around a covered area near pool.
Kula's closet in New River Yoga is open from 12-3 Saturday and Sunday and by appointment 3046408479. Please register and pay through the MINDBODY app. You can also pay the teacher. Classes are $15 and the "Industry" rate is $10.
Share Your Stories
We want to see your adventures in Fayetteville, share your adventures by tagging us at #visittheville.
Updated Restaurant & Retail List

#Fayettevillewvstrong
We love our little slice of almost heaven and our community is what makes this place so special. Over the coming weeks and months, our favorite restaurants, shops, places to stay and places to play in our beloved town are going to see a decline in visitors. Our little town is dependent on tourism so we are especially going to take a hit. Our small businesses need us now more than ever. #Fayettevillewvstrong is a movement to support our town and community.
You can help in lots of ways: ordering food to go, shopping online, tipping well, buy a gift card, leave a positive review, or just spread the word about your favorite small business and the #fayettevillewvstrong campaign. We are an outdoorsy close-knit town and we will be utilizing our strengths. You will see more businesses utilizing outdoor spaces. Please be patient with us as we navigate new changes and try to keep each other safe.