We want to highlight some of the positive things going down in town this week to bring a smile to your face. Thank you to all the essential folks and helpers who are serving on the front lines and supporting our community! We have lots of exciting things going down this weekend.
Fayetteville Makeover
Town Hall is getting a refresh with new paint on the window trim.
Fayetteville has a new easy to navigate website with an updated look and helpful links.
The folks at Lafayette Flats have been in full-on restoration mode bringing new life to the lower level of this historic stone building that houses the flats. We are here for the new windows and are glued to the progress!
Making a Difference: Pinheads Provides Free Wifi & Reopens
Pinheads is just a short drive from Fayetteville in Oak Hill. Enjoy bowling in a fun family-friendly environment with new safety precautions to allow for social distancing fun.
Making a Difference: Pinheads provides free WiFi to students while also managing to safely reopen
New Art Popping Up
Art is taking new heights in town. Check out this new art installation from local artist Gary Vaughan located between The Grove and Great Googly Moogly. It is the perfect selfie stop for Selfie September.
Fall Fun With Fido
Fall is the perfect time of year to get out and explore around town with your furry companions. Check out all the dog-friendly spots in town for some fun inspiration.
Selfie September
Throughout the month of September Fayetteville is celebrating everything selfie. There are countless photo-worthy spots in Fayetteville and lots of fun to be had. We want to see you enjoying your selfie in town. Share your adventures on our social media pages, and tag us @visitfayettevillewv using the hashtag #visittheville. We are running a photo contest for the best selfie this month. Embrace your self and selfie skills, weird and awkward selfies are encouraged. We will be uploading favorites to vote on our Facebook page at the end of September. Here are a few iconic Fayetteville spots to help you get started.
FHS Alumni Hosts Scholarship Fundraiser
Last weekend to place your bids for the Scholarship Fundraiser.The FHS Alumni Committee has for years offered scholarships to students graduating from Fayetteville High. Beginning last year the scholarships have continued to be awarded to Fayetteville students who attend Oak Hill or Midland Trail, and the Scholarship Committee plans to continue the tradition with your support.So what does that have to do with something fun to do in town?? Well, in an effort to continue to fund the scholarships, the committee reached out to local residents and artists for help. Old school desks, tables, and podiums were taken from the former elementary school and offered as a medium for artists to create something beautiful and unique… a piece of history from our school.As of today, these works of art are being distributed throughout our town at participating businesses, as notated on the attached map. Silent bids will be taken on each piece at each place of business up until September 21, 2020. All you need to do is go into the business, and place your silent bid in the envelope. We will be doing an announcement of winners following the conclusion of the silent bid auction. Keep an eye out on our page as we will feature each piece, give its location, and share a bio of the artist. Our hope is that not only will you be supporting future students through scholarships, but you will also be helping to support our local small businesses in Fayetteville. Plan a day, a weekend, or a month to visit our fabulous businesses. Give them your support and take a peek at the beautiful art that has been created to support our students. Help us continue to fund the scholarships for our future. May you have the highest bid!!!
Desk Locations
The Station Sneak Peek
New things are coming to town! Check out The Station's Facebook page to get a sneak peek of what is in the works for the space.
Live Music At Great Googly Moogly
Come hang out at the Great Googly Moogly every Wednesday from pm5-6pm. Brian & Drew from the kind Thieves will be playing live music out front of the store. This event is weather permitting.
Live Music at Chimney Corner Cafe
Music at Chimney Corner Cafe this weekend! Friday, September 18 @6pm JIM SNYDER!!Saturday, September 19 @5pm Jonah Carden!!Never a cover charge! Come enjoy the fall evenings outside on the deck with excellent food and excellent music!
Live Music Our House Cantrells with
We have Randy at Our House this Saturday! Come enjoy dinner and some tunes!
Fayetteville Farmers Market This Saturday
The Fayette County Farmers Market will be set up in the Fayette Courthouse Parking lot for this Saturday from 8:30am to 12:30pm. Come stock up on a variety of fresh goodies from breads to veggies and meats.Yoga On The Gorge Adventures On The Gorge
Upcoming Fun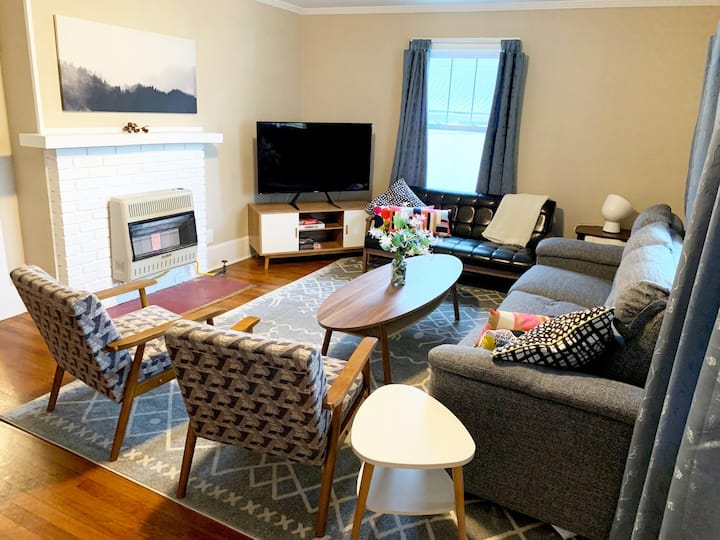 Make the most of your visit to New River Gorge by staying at this spacious one story house in the heart of downtown Fayetteville, WV. This house is right at the corner of Court Street and Maple Ave, easy walking distance to all of Fayetteville's top restaurants and nightlife.
Accommodating up to 6 people, the home includes 3 well-decorated bedrooms, 2 full bathrooms, cozy mid-century modern inspired living room, and full kitchen with brand new A/C.
Built in 1935, the Wiseman Bungalow is a recently renovated house in the heart of the downtown Fayetteville that is great for anyone who is here to enjoy the natural beauty of New River Gorge and its associated outdoor activities like white water rafting, rock climbing, hiking, mountain biking, skiing, and more.
The house can hold up to 6 guests, there are three bedrooms with fresh linens, a mid-century modern inspired living room, two full bathrooms with fresh towels, and full kitchen well-stocked with coffee and tea. The living room includes an easy to use 4K Smart TV along with high speed WiFi making the living room a delight to spend time in.
The Wiseman Bungalow is only within 2-5 mins of walking distance to all downtown shops, restaurants, bars, art galleries, and even hiking trails!
Share Your Stories
We want to see your adventures in Fayetteville, share your adventures by tagging us at #visittheville.
Join Us As A Wifi Access Zone
Updated Restaurant & Retail List

#Fayettevillewvstrong