We want to highlight some of the positive things going down in town this week to bring a smile to your face. Thank you to all the essential folks and helpers who are serving on the front lines and supporting our community! We have lots of exciting things going down this week.
NEW RIVER HUMANE SOCIETY HOTDOG SALE/PARTY! at Maggie's Pub
Saturday, April 3 4pm-7pm
Join us in supporting an amazing organization, The New River Humane Society! We will be grilling up hotdogs with all the home made fixings for $1.00 or a donation each starting at 4pm and all proceeds go directly to them! We will also have a DJ starting at 7pm and donation jars all around the pub. Drinks specials of course and a great time having fun while supporting a great cause! CHEERS! 
Joey Liegel leads The Freefolk Brewery Open Mic
Easter Dinner at The Gaines Estate
Saturday, April 3rd 6:30pm
Celebrate Easter weekend with The Gaines Estate. Join us the Saturday before Easter for a charming evening to gather with friends and family. Take time to slow down and relax before the Easter festivities!
Reservations are required. Please call 304-237-2193 to make your reservation. Each guest will receive a 4 course meal and be able to select one appetizer, one entree and one dessert from our menu provided by Dobra Zupas. The entree price includes all 4 courses. Reservations begin at 6:30pm. Doors open 30 minutes prior to reservation. Please make your reservation by Monday, March 29th.
Bridge Brew Works Opening
Getting ready to welcome you back today, Friday the 2nd of April. Our hours till further notice will be 1-10 pm W-Sunday. Saturday and Sunday Mt Momma Food truck will be starting her season her too! We have a great beer lineup. On tap for the first time ever is our new beer Wolf Creek Wheatwine! Our winter favorites Coal River Coffee Stout and Shay's Revenge Oatmeal Stout. How about a black lager: Black Diamond. Spring is the season so our Seldom Seen Saison is back. Local favorite a malt liquor Creepin' – as in creepin under the bridge is making an appearance. Momma Rye IPA – a mosaic goddess. And of course WV's lager Long Point Lager and WV's hoppy ale Mountain Momma will all be at the party. We have 2 counter pressure growler filling stations – bring your growler or by a quart or half gallon glass growler from us. Can't decide – get a 4 sample paddle. Lets get this started. We got all our shots and are using a lot of space. Bring the dog or your other significant other! We are planning on being open Easter. There won't we food Friday – but we will have a fire going!
Lodging Highlight: High Country House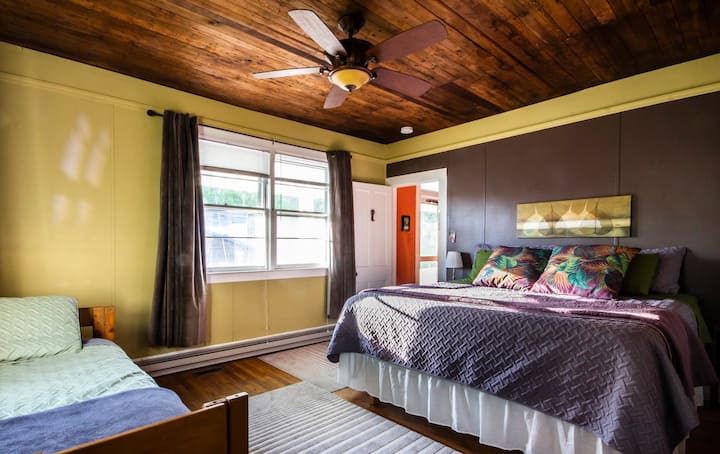 Complete anti-viral scrub down by a professional cleaning company before every guest stay.
Perfect oasis in the middle of Fayetteville, in the heart of the New River Gorge Recreation Area. Cross the street to Secret Sandwich Society, Station, and the Grove (live music/drinks). Walking distance to all other Fayetteville fun. Sunny front porch for morning coffee, gas fire pit and grill for evening fun, 3 bd/3ba – plenty of space for everyone.
The space
**We are aware of the outbreak of the coronavirus. At the High Country House we have taken precautionary measures to ensure a safe experience for our guests, including disinfection of all surfaces, and keeping hand sanitizer on site.**
Minutes from the New River Gorge National River and Recreation Area – whitewater, endless rock walls, trails, and historical treasures, this location can't be beat for adventure and beauty.
Balance your activity and adventure with relaxation and comfort in the heart of Fayetteville.
The sweet town of Fayetteville has amazing restaurants, fun shops, local art and music, an escape room, an ice cream shop, a weekly Farmer's Market and a great playground, too!
The house itself feels peaceful and private, but it is right in the heart of Fayetteville. It is a historic house with the charm and quirks of many years. It also has modern amenities to make for a unique but comfortable experience.
Built in 1900, this lovely home retains its old house charm with great modern updates. Upon arrival, you'll be greeted by towering trees surrounding the property, as well as a covered front porch that expands across the front of the home, inviting you to enjoy morning coffee and evening sunsets.
Inside, the home boasts 1,840 square feet of tastefully decorated living space, featuring everything needed in a true home-away-from-home. Lounge on the comfy couches in the living area during your downtime, or take a seat at the bar in the kitchen area while the chef of the group cooks up a tasty meal in the fully equipped kitchen!
When you're in need of a good night's rest, retreat to one of the 3 bedrooms, all of which have cozy beds to promise sweet dreams.
Fire up the grill on the private back deck surrounded by the rock garden, climb the steps to have a drink in the Adirondacks, and enjoy your friends and family while listening to the quiet rhythm of small town life.