We have lots of fun lined up this weekend in town with live music all weekend long, the Gritty Chix Mud Run and more!
Thursday
Group Ride Arrowhead Bike Farm
5pm-7pm
Relaxed pace, informal group ride. Everyone is welcome and nobody gets left behind!
The Pink Pig Family Fun Night
Don't forget to come out this evening and have some family fun enjoy food that is amazing , cotton candy, glow sticks, sparklers, face painting and more!
The Pink Pig Celebrates 1st Anniversary
All weekend long
Friday
The Two Broke Band at The Pink Pig
5pm-8pm & Giveaways
Rasta Rafiki at Cantrells Ultimate Rafting
6pm
Stacey Carroll at The Freefolk Brewery
7pm-9pm
Come listen to Stacey Carroll perform her songs on The Freefolk Brewery stage
Shawn Benfield at the Rendezvous River Lodge
8pm-11pm
Singer-Songwriter Shawn Benfield returns to the stage at the Rendezvous River Lodge on Friday, June 18th. Music from 8-11pm, FREE show.
Saturday
New River Yoga at Adventures on The Gorge Pool Desk
9am
Fayette County Farmers Market
Wiseman Ave. Courthouse Parking Lot beside Court House
8am-12:30
Gritty Chix Mud Run at Ace Adventure Resort
8:30am-4:30pm
Voted #1 Mud Run/Adventure Race in the Southeast and Mid-Atlantic, in 2020 Best of the Blue Ridge Readers' Choice Awards by Blue Ridge Outdoors magazine!
Gritty Chix Mud Run is back to ACE Adventure Resort this summer and we are ready to jump back into all that mud! No matter what Gritty Chix wear (athletic wear, costumes, or dresses), no matter how they look (aflame with glitter, game day face paint, or gloriously au natural), no matter how they start (sprinting, jogging, or moseying along), no matter how hard they laugh or grit their teeth along the way, they cross the finish line as mud-covered and as triumphant as they want to! Second to none.Gritty Chix Mud Run is where you cut loose and let it fly! It's all good.
Walk, sprint, skip, jog, crawl and dance through trails, over walls, through tubes, and mud pits! You're gonna sweat a little, challenge yourself a little, get a little mud in your teeth, and you're gonna have a lotta fun.

Open to everyone ages 10 and up; under age 18 must be accompanied by an adult. No exceptions.
We don't exclude the guys that respect our grit – These Dirty Dudes are welcome to run with us!
Burnsville Drive at The Pink Pig
9am-12pm
Thomas Dunley Band at The Pink Pig
12pm-4pm
Pig calling contest judged by mayor and town manager
Corn hole tournament
The Company Stores & Ma'am at Ace Adventure Resort
2pm
Destination Downtown Oak Hill: Frozen 2 at Lively Theater Oak Hill
Elsa the Snow Queen has an extraordinary gift — the power to create ice and snow. But no matter how happy she is to be surrounded by the people of Arendelle, Elsa finds herself strangely unsettled. After hearing a mysterious voice call out to her, Elsa travels to the enchanted forests and dark seas beyond her kingdom — an adventure that soon turns into a journey of self-discovery.The movie will start at dusk.
Beggars Clan at the Rendezvous River Lodge at Adventures on the Gorge
8pm-11pm
Beggars Clan returns to Rendezvous River Lodge at Adventures on the Gorge! It is always a party on the Gorge! Two sets
Sunday
New River Yoga at Adventures on The Gorge Pool Desk
9am
1st Annual Chimney Corner Cafe Bluegrass Festival
12pm-7:30pm
Help us celebrate Father's Day, and the birthday of our Beautiful, Great State!! We will offer Bluegrass Music, featuring Shane Masters Music, and Long Point String Band! As well, we will ve having a Pig Roast!
Music starts at 12:00pm and ends at 7:30pm!There is a $10 cover for admission. We will offer a couple of special plates of our amazing food! Pay your cover in advance or at the door!
Jim Snyder at the Pink Pig
1pm-3pm
Jeffery Joe at the Pink Pig
3pm-5:30pm
Women's Group Ride at Arrowhead Bike Farm
5pm-7pm
We are excited to announce our Weekly Women's Group Ride will be on Sundays!Sundays at 5 pm, Erin Larsen and Sarah Coffey will be leading a beginner to intermediate ride for women who are looking to ride with other women, explore the Arrowhead Trails with a group, and have a good time!Meet at the Bike Farm at 5:00. The length of the ride will depend on the group but will range from 6-8 miles.
Monday
Kids Art & Yoga Camp at Fayetteville Town Park
9am-12pm
Come join us for some artistic fun at Fayetteville Town Park from 9am-12noon Monday June 21st through Thursday June 24th! Kelly LaCava with Wild & Wonderful Paint Parties will be leading a four day art & yoga camp for ages 7-13. Kids will learn about art concepts and practice yoga during their "dry breaks" in a fun and supportive atmosphere! Kids will paint a different painting each day on a 16×20 inch canvas over the course of this 4 day camp. Please bring a snack and drink for your child, and dress your child in appropriate clothes for painting. On Thursday, the camp will finish at 11:45am to have time for the gallery stroll where parents may walk around and view their child's artwork from the week. We can't wait to make some memories this year at art camp, this year with some yoga fun added!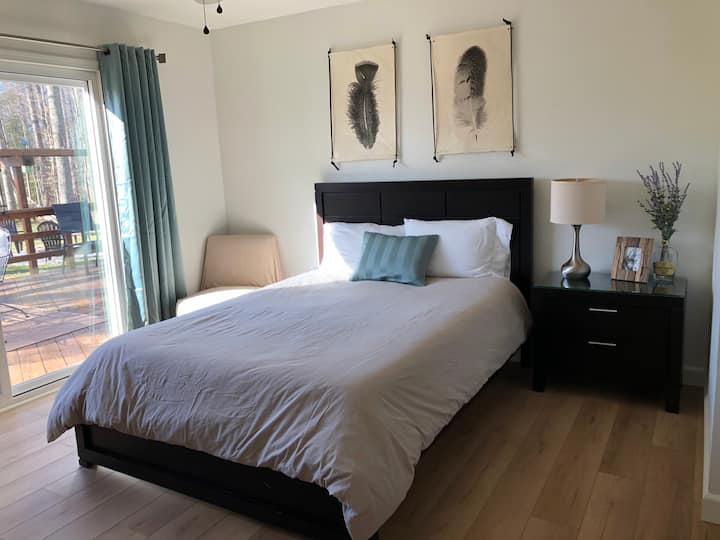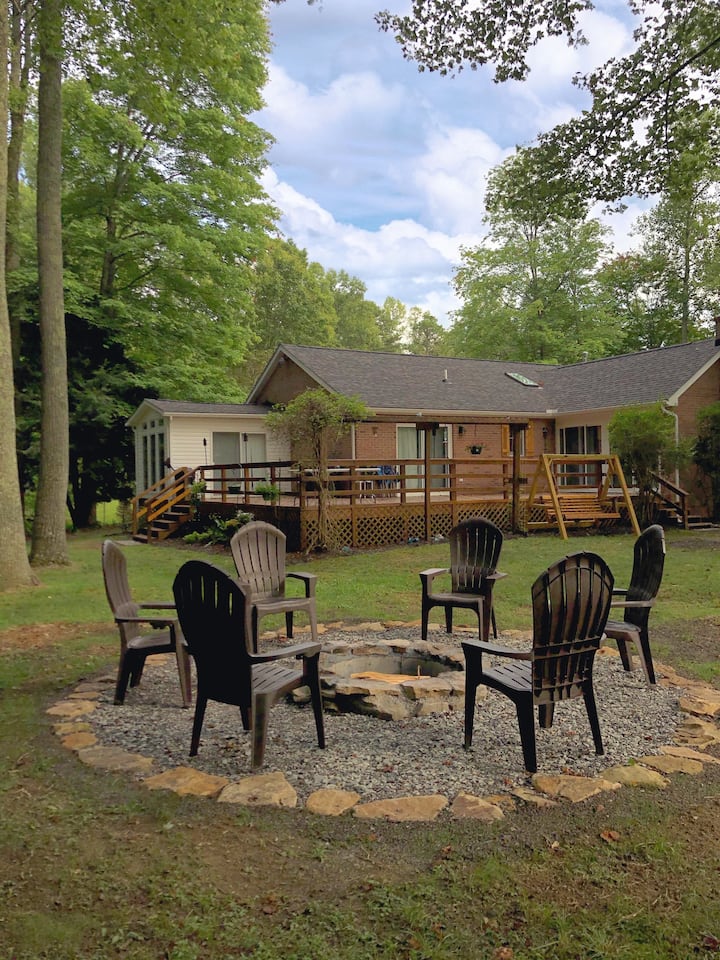 This newly remodeled, luxury vacation home sits directly on the New River Gorge National Park and is less than three minutes from downtown, with some of the best NRG hiking trails accessible right from the backyard. Spacious and private, this home features beautiful views of the woods behind the house, an open concept living/kitchen/dining area with a custom wrap around bar, a large cozy fireplace, a spacious deck overlooking the forest and well appointed amenities.The spaceThis three bedroom, two bath luxury home is conveniently located next to all the New River Gorge has to offer, from trails accessible directly from the backyard, to historic downtown Fayetteville less than a three minute drive away.
The house sits on a quiet street with half an acre of outdoor space, including a large deck overlooking the forest behind the house, a fire pit and gas grill for enjoying dinner under the stars. The entire house has been renovated with simplicity and relaxation in mind. The first room as you enter the house features a gallery wall showcasing local West Virginia art and a comfortable place to read, play games or enjoy the beautiful view from the bay window. As you make your way to the main area of the house, the living room, kitchen and dining room are all connected with a beautiful custom walnut bar, allowing everyone to enjoy the spaces together. Each room is tastefully decorated and the bathrooms are clean and well appointed, with everything you need on your vacation.