We have lots of fun lined up this weekend in town with live music all weekend long, the Gritty Chix Mud Run and more!
Thursday
Group Ride Arrowhead Bike Farm
5pm-7pm
Relaxed pace, informal group ride. Everyone is welcome and nobody gets left behind!
Ansted's Hometown Heritage Festival
June 25-27
Ansted's Annual Heritage Festival. A 3 Day Celebration of our Town's History and Heritage. Craft & Food Vendors, Contests, Games, Kids Zone, Entertainment and Prizes!!!
Friday
Crazy Grillz Pop Up Kitchen at the Freefolk Brewery
1pm-
Crazy Grillz will be serving boutique hot dogs from 5 pm Friday to 8 pm Saturday. Bacon-Wrapped dogs, Reuben Dog, and more!
Kittens Aint Biscuits at The Freefolk Brewery
7pm
West Virginia musical duo featuring acoustic and electric guitar, percussion, harmonica, vocals performing originals and covers of many styles taking you from Texas Swing to Appalachia with a short stop on the Brazilian coast. On the Freefolk Stage June 25 at 7pm.
Short and Company at The Burrito Bar Breeze Hill
7:30pm-10:30pm
Free show with Amazing Blues guitarist and friend of us at The Burrito bar. You will not want to miss Jeremy bending those strings.
Matt Harrison at the Rendezvous River Lodge
Tomorrow night! Matt Harrison takes the stage for evening of tunes here at the Rendezvous River Lodge! Music starts at 8pm, FREE show.
Saturday
New River Yoga at Adventures on The Gorge Pool Desk
9am
Fayette County Farmers Market
Wiseman Ave. Courthouse Parking Lot beside Court House
8am-12:30
Inflatable Extravaganza at The Fayette County Park
10am-5pm
Inflatable Extravaganza featuring a 16ft water slide, 32ft slip and slide, 40ft obstacle course, 15×15 bounce house combo with slide, Jacob's Ladder and a 9 hole putt putt golf course! Time of event is from 10am to 5pm. Cost: $10 dollar wrist band for the entire event with part of the proceeds going to the Fayette County Park! 
Ansted Rubber Duck Race
10am
Join us for our first Rubber Duck Race! Ducks will be sold for $5.00/duck. Prizes are: 1st Place-$200 2nd Place-$100 3rd Place-$50Ducks will be placed in Westlake Creek behind the Ansted maintenance building and race for approx 300 yards down the creek!!
Youth Mountain Bike Camp Arrowhead Bike Farm
Calling all youth mountain bikers! The Arrowhead Bike Farm is excited to announce it's NEW Youth Mountain Bike Camps! These camps will increase the amount of fun and skill your rider has on a mountain bike. We will work through ways to be more stable on your bike, have more control while shredding, ways to get those wheels off the ground, and many more skills based on group interest! Our professionally trained and certified instructors will provide individual feedback to each of the riders in a fun, enthusiastic and confidence-building way. In addition to our great instructors, we keep group sizes small to provide the largest amount of personal instruction possible.This camp goes way beyond working on skills in a field! We will be covering a lot of ground on the Arrowhead Mountain Bike Trails located in the New River Gorge National River. While on these trails, we will stop and analyze features that we come across to improve choosing the best path and how to respond to on trail features in a quickly and effectively. We encourage parents to come up and explore the farm and nearby trails. This is the best way to get some personal ride time without kids!Ages: 12-17
Skill Level: Beginner-Intermediate Riders
Required Equipment:Helmet
Bike
Hydration pack/ Water Bottles
Overnight camping supplies
Camp Includes:Bike and Helmet safety check
Lunch
Trail Snacks
Instruction from professionally trained and BICP certified instructors
Fun constructed mountain bike features for focused skill instruction.
Overnight Camping for youth and adults
Important Notes: Parents/adults will be responsible for their children after 4 pm and overnight.
Tom Batchelor & Freinds at The Freefolk Brewery
7pm
Tom Batchelor and Friends RETURN to The Freefolk Brewery to thrill the folk with their wild and raucous tunes. Don't miss this barn burner!
Black King Coal at the Rendezvous River Lodge at Adventures on the Gorge
8pm-11pm
Black King Coal to return to Rendezvous River Lodge at Adventures on the Gorge! It is always a party on the Gorge!
ACE Adventure Waterpark DJ Dance Party
8pm-11pm
DANCING ON WATER!
Play at Wonderland Waterpark through the night for our first Wonderland Waterpark DJ Dance Party! Wonderland Waterpark will host an after dark DJ Dance Party on June 26th. Bring your friends and float or play hard at the Waterpark! A DJ Strizy will keep the fun going with tunes and a full light show that will play across the lake!Since you'll be out late, why not check out our cabins or camping options, and make a whole weekend out of it? Make sure to check out some of our other adventures as well!
Sunday
New River Yoga at Adventures on The Gorge Pool Desk
9am
MA'AM at Chimney Corner
2pm-5pm
Folk duo MA'AM play LIVE!Debuting songs of their latest album Fire Pink as well as some old classics.
Beer With Freinds
4pm-6pm
In case you haven't heard, there is a new National Park in town. Come join Board members of Friends of New River Gorge National Park & Preserve and Friends' business member, Arrowhead Bike Farm, for a beer and some good grub courtesy of Friends. Learn more about what our mission is and how you can personally help Friends in promoting our nation's 63rd National Park.This is a casual, come-as-you-are event after getting off the trail or river for the day, so grab a friend – or several friends – and come on by the Bike Farm.
Women's Group Ride at Arrowhead Bike Farm
5pm-7pm
We are excited to announce our Weekly Women's Group Ride will be on Sundays!Sundays at 5 pm, Erin Larsen and Sarah Coffey will be leading a beginner to intermediate ride for women who are looking to ride with other women, explore the Arrowhead Trails with a group, and have a good time!Meet at the Bike Farm at 5:00. The length of the ride will depend on the group but will range from 6-8 miles.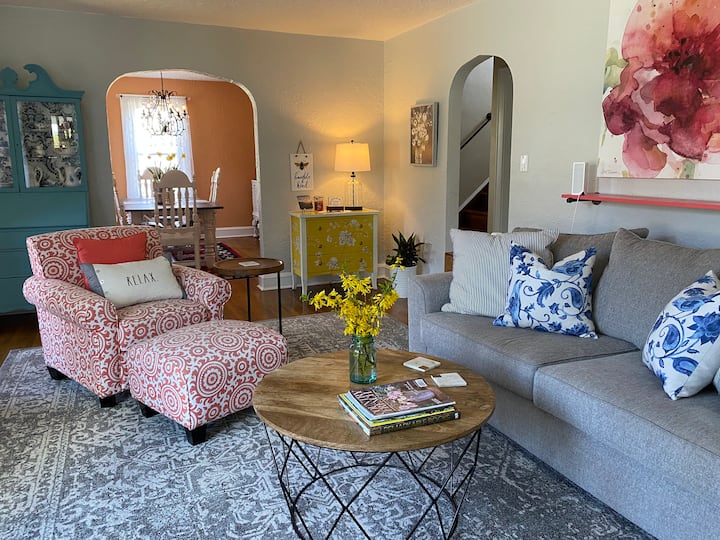 Perfect location for anyone exploring historic Fayetteville WV or the New River Gorge National Park. Charming and spacious, this adorable english cottage style home has been newly renovated and beautifully decorated throughout. Only a 5 minute walk to downtown shops, pubs, restaurants, walking, biking, hiking trails, etc. 3 spacious bedrooms and 1 bath, comfortably sleeps 6 guests. Sleep like a baby in heavenly beds. Fast Internet/Wifi (1 GB), patio, grill, fire pit, etc.The spacePerfect getaway for couples, a girls weekend, or a family vacation… where adventure awaits and great memories are made!
Best known as "The place to stay in Fayetteville WV", this lovely cottage is located in the heart of historic Fayetteville, (voted Coolest Small Town in America), and within walking distance to trails leading to the New River Gorge Bridge and National Park. Loaded with beautiful antiques and all the amenities of home… including a fully stocked kitchen (cook just about anything your heart desires), new stainless steel appliances, new heating and air, fast Internet service / great wifi (1GB), spacious living room, dining room, and a spacious family room with large flat screen TV, etc. Located on a beautiful and quiet tree lined street, near the Fayetteville WV courthouse. Warm up at the Coffee & Tea Bar, after returning from your outing, with a variety of complimentary snacks, Starbucks coffee, and a selection of tea and hot chocolate. Relax and enjoy grilling dinner on the cozy side porch, and/or roasting marshmallows and s'mores under a star lit sky.Guest accessGuest access is simple and easy. Just use the key pad lock on the side entrance door. Access code will be provided by hosts.