We have lots of fun lined up this weekend in town with live music all weekend long, the farmers market, Wild and Wonderful Women's Weekend and more!
Friday
Randy Gilkey at The Freefolk Brewery
7pm
Randy Gilkey returns with his musical genius to The Freefolk Stage on Friday July 16 at 7 pm.
The Europhic Band at Chimney Corner
7pm
Tom Batchelor Band at The Rendevous River Lodge
8pm
Morgantown, WV's Tom Batchelor Band make their return to the stage at the Rendezvous River Lodge on Friday, July 16th for two sets of Rock and Reggae! Music starts at 8pm, free show.
John Colby Elswick at Charlie's Pub
10pm
Saturday
New River Yoga at Adventures on The Gorge Pool Desk
9am
Active Southern WV Get Active in the Park Lead By Linda Stein
9am Fayetteville Town Park Park Loop Trail Head
As part of Active Southern WV and New River Gorge National Park's Get Active in the Park events Linda Stein is leading a hike in the Fayetteville Town Park at 9AM on Saturday, July 17th. The hike is 2 miles long and will take about an hour depending how long we linger on the bridge over Wolf Creek. She chose this hike because it is easy to access and offers a variety of options and difficulty levels as well as an escape into cool woods on hot days. So, wear good shoes and come out to join me for a cool treat!
Fayette County Farmers Market
Wiseman Ave. Courthouse Parking Lot beside Court House
8am-12:30
Wild, Wonderful Women's Weekend at Arrowhead Bike Farm
Experience the laidback community of Arrowhead Bike Farm and the beautiful New River Gorge mountain biking trails at this women's mountain bike retreat! Enjoy two days of riding, practicing yoga and making friends. This weekend retreat is for women of all mountain bike abilities looking to improve their skills while having fun. We are keeping the group size small so we can provide the best individual instruction so we encourage you to take the opportunity to sign up!Location: Arrowhead Bike Farm, Fayetteville, WVDates: July 17-18, 2021Time: Saturday, 9:00am-4:00pmSunday, 8:00am-2:00pmCost: $275/ riderSkill Level: Beginner-Intermediate RidersRequired Equipment:Helmet
Bike (bike rentals available)
Hydration pack/ Water Bottles
Face Covering for when it is difficult to maintain distance
Camp Includes:Lunch and Dinner Saturday
Light pre-yoga breakfast
Sunday Brunch
Trail Snacks
Instruction from professionally trained and BICP certified instructors
Fun constructed mountain bike features for focused skill instruction.
Free Field Tent Camping
Call 304-900-5501 or register online now.
Susan Jones Po'boys at Maggie's Pub
3pm-?
The Stacey Caroll Project at Cantrell's Ultimate Rafting
6:30pm
Great music, great food, and good friends..
enjoy dinner with the blues of The Stacey Carroll Project on our garden stage at Our House Grill at Cantrell Rafting…
8pm
Join ACE Adventure Resort's Thurmond Ghost Hunt and experience a paranormal investigation in the New River Gorge. We will visit one of the most haunted places inside the park, Thurmond. Space is limited as we are only taking 20 participants on this investigation.Our evening will start at ACE Adventure Resort where we will drive to the New River and take a short hike up the Southside Junction trail to the town of Thurmond. We will spend much of our evening exploring the ruins of this old railroad town. This is your chance to investigate the paranormal side of the old train depot, Main Street on the tracks, The Lower End, the Dun Glen Hotel site, and the Ballyhack district. Use paranormal equipment such as K2 meters, spirit boxes, and SLS cameras.Registration Includes Evening Ghost Hunt (4-5 hours)All participants will need to fill out the ACE Adventure Resort General Waiver upon arrival. Participants under 18 MUST have this completed by parent or legal guardian.
OYB At the Handle Bar Restaurant at Arrowhead Bike Farm
8pm
Rock out with The OYB in the Biergarten after a long hike/ride in the gorge with some great eats and great brews!
Creature Comfort at the Rendevous River Lodge
8pm
Nashville, Tennessee's Creature Comfort make their West Virginia debut here at the Rendezvous River Lodge at Adventures On The Gorge for two sets of Indie Rock! Music starts at 8pm, FREE show.
Sunday
New River Yoga at Adventures on The Gorge Pool Desk
9am
In case you haven't heard, there is a new National Park in town. Come join Board members of Friends of New River Gorge National Park & Preserve and Friends' business member, Arrowhead Bike Farm, for a beer and some good grub courtesy of Friends. Learn more about what our mission is and how you can personally help Friends in promoting our nation's 63rd National Park.This is a casual, come-as-you-are event after getting off the trail or river for the day, so grab a friend – or several friends – and come on by the Bike Farm.
Freefolk Irish – Ish Jam Session
3pm-5pm
Andrew Caldwell hosts the Irish-ish Jam Session on The Freefolk Stage. Join us every third Sunday for an eclectic Irish based jam that is open to anyone of any skill level, beginner to experienced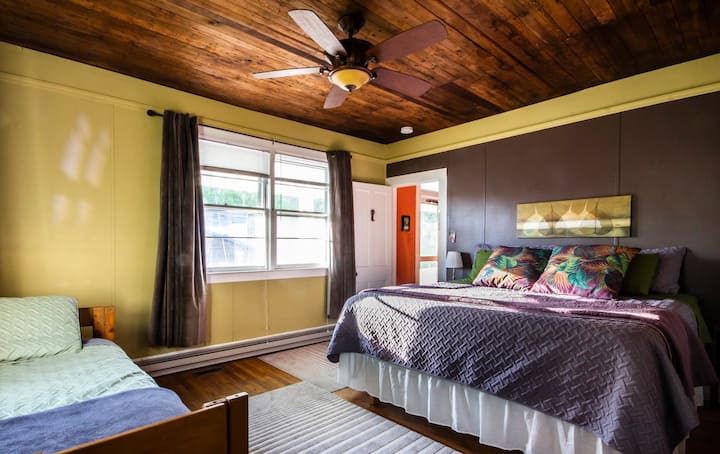 Minutes from the New River Gorge National River and Recreation Area – whitewater, endless rock walls, trails, and historical treasures, this location can't be beat for adventure and beauty.
Balance your activity and adventure with relaxation and comfort in the heart of Fayetteville.
The sweet town of Fayetteville has amazing restaurants, fun shops, local art and music, an escape room, an ice cream shop, a weekly Farmer's Market and a great playground, too!
The house itself feels peaceful and private, but it is right in the heart of Fayetteville. It is a historic house with the charm and quirks of many years. It also has modern amenities to make for a unique but comfortable experience.
Built in 1900, this lovely home retains its old house charm with great modern updates. Upon arrival, you'll be greeted by towering trees surrounding the property, as well as a covered front porch that expands across the front of the home, inviting you to enjoy morning coffee and evening sunsets.
Inside, the home boasts 1,840 square feet of tastefully decorated living space, featuring everything needed in a true home-away-from-home. Lounge on the comfy couches in the living area during your downtime, or take a seat at the bar in the kitchen area while the chef of the group cooks up a tasty meal in the fully equipped kitchen!
When you're in need of a good night's rest, retreat to one of the 3 bedrooms, all of which have cozy beds to promise sweet dreams.
Fire up the grill on the private back deck surrounded by the rock garden, climb the steps to have a drink in the Adirondacks, and enjoy your friends and family while listening to the quiet rhythm of small town life.
Cathedral Cafe New Hours
We Are Hiring at the Fayetteville Vistior Center!
We are hiring for a visitor associate position! We are looking for someone who is passionate about Fayetteville and shares their love for the town. This person will be greeting visitors and providing information about Fayetteville. (must have availabitly on Saturdays)