We have a fun-filled weekend in town with live music all weekend long. Take a short drive from Fayetteville and enjoy the Kirkwood Winery Grape Stomp Festival in Summersville.
Kirkwood Winery Grape Stomp Festival
Kirkwood Winery & Isaiah Morgan Distillery Summersville
Join us for the 30th Annual Grape Stomp Festival!Bring your lawn chair and stay all day, enjoy live entertainment, good food and wine!
Friday:
$10 Advance Tickets
$12 at the Gate
12 to 20: $5
Under 12: FREESaturday:
$20 Advance Tickets
$25 at the Gate
12 to 20: $5
Under 12:
FREE GLASS & WINE TASTINGS WITH admission tickets can be purchased at
First Community Bank and United Bank in Summersville, Craigsville, and Cowen or online at kirkwood-wine.com
Wine & Whiskey tasting and sales all-day
Handmade Crafts
Great Food
Distillery Tours
Covered Wagon Rides
Food by Gil's Pit Beef
Kettle Corn
Ice Cream
Grape Eating & Grape Stomping Contests
Stomp Grapes in the Grape Put all-day
Door Prize Drawings all-day
Ski & Rafting Trip Giveaways
SCHEDULE OF EVENTS
FRIDAY: Gates open at 12:30pm1pm: Covered Wagon Rides
1pm-3pm: Open Mic
3pm-5pm: Andrew Adkins
5pm-8pm: Johnny Staats Project
SATURDAY
9am: 5K Race
10am: Covered Wagon Rides
11am-1pm: Grayson Wills
1pm-3pm: Randy Gilkey
3pm-5pm: Wyatt Turner
5pm-7pm: Mikele Buck
7pm-9 pm: Bucky Covington
Usui/Holy Fire III Reiki Master Training Course
17th-19th 8:30am-6:30pm
Usui/Holy Fire III Reiki Master Training Course
102 E Maple Ave
Reiki is an ancient Japanese energy healing technique that promotes healing. Reiki is a way to manage symptoms and improve your general well-being. Through energy life force, the Reiki Practitioner is able to stimulate the body's natural healing abilities while you lay there relaxed and comfortable.Benefits of Reiki include; relieves pain, anxiety, fatigue, treats depression, boosts mood, relaxes muscles, clears toxins, increases immune response, promotes sleep and balances your energy…. just to name a few.The Reiki Training Center of West Virginia offers not just Reiki treatments and massage, but also offers courses from Level 1 Reiki Practitioner all the way to becoming a Reiki Master. You are also taught step by step on how to become a Reiki Master Teacher, if you choose and how to start up and create your own thriving practice.This course will certify students to a Reiki Master Level, who have been a practicing Level 2 Reiki Practitioner for 6 months or greater.
Class begins:
•Friday September 17th 8:30am-6:30pm,
•Saturday September 18th 8:30am-6:30pm and
•Sunday September 19th 8:30am-6:30pm
Cost for this course is $1000.00.
A 50$ deposit is required and then you will receive your Master training manual in the mail to begin preparations for the course.
Payments can be mailed, paid over the phone or through Venmo or Cash App. Payment arrangements are also available if needed.
*A light breakfast and snacks will be provided or if you choose, you can go out for lunch, or bring your own. A fridge and microwave are also available. We will be breaking for lunch from 12:30-1:30 each day and taking regular scheduled breaks.
*Limited spots are available
Email thereikitrainingcenterofwv@gmail.com
Website thereikitrainingcenterofwv.com
Phone 304-640-3956
Friday
Mister Crabs Catering & Boil Truck at The Freefolk Brewery
1pm-9pm
Mister Crabs Catering and Boil Truck will be set up outside doing delicious country boil style seafood at The Freefolk Brewery.
8:30pm-11:30pm
Joshua Runyon and The Electric Whizbang make their Rendezvous River Lodge debut on Friday, September 17th for two sets! Music starts at 8:30pm, FREE show.—Joshua Runyon is a West Virginia native determined to craft a legacy in music. A juggernaut guitarist, practiced multi-instrumentalist, and finely tuned song-writer, he channels the sounds of classic artists such as Paul McCartney, Led Zeppelin, and David Bowie. A tour de force of folksy mandolin, tasteful guitar leads, and dreamy electric pianos, his self-produced debut record "Danger" coming summer 2021, gives insight to his musical prowess on every instrument you will hear.
Ma'am at Charlie's Pub
8pm
Saturday
Fayette County Farmers Market
Come score delicious fresh goodies in downtown Fayetteville at our weekly farmers' market. Find the market off Wiseman Ave. in the Courthouse Parking lot beside the courthouse.
8am-12:30pm
New River Yoga at Adventures on The Gorge Pool Desk
9am
Youth Mountain Bike Camp at Arrowhead Bike Farm
9am-4pm
Calling all youth mountain bikers! The Arrowhead Bike Farm is excited to announce it's NEW Youth Mountain Bike Camps! These camps will increase the amount of fun and skill your rider has on a mountain bike. We will work through ways to be more stable on your bike, have more control while shredding, ways to get those wheels off the ground, and many more skills based on group interest! Our professionally trained and certified instructors will provide individual feedback to each of the riders in a fun, enthusiastic and confidence-building way. In addition to our great instructors, we keep group sizes small to provide the largest amount of personal instruction possible.This camp goes way beyond working on skills in a field! We will be covering a lot of ground on the Arrowhead Mountain Bike Trails located in the New River Gorge National River. While on these trails, we will stop and analyze features that we come across to improve choosing the best path and how to respond to on trail features in a quickly and effectively. We encourage parents to come up and explore the farm and nearby trails. This is the best way to get some personal ride time without kids! Ages: 12-17
Skill Level: Beginner-Intermediate Riders
Required Equipment:Helmet
Bike
Hydration pack/ Water Bottles
Overnight camping supplies
Camp Includes:Bike and Helmet safety check
Lunch
Trail Snacks
Instruction from professionally trained and BICP certified instructors
Fun constructed mountain bike features for focused skill instruction.
Overnight Camping for youth and adults
Important Notes: Parents/adults will be responsible for their children after 4 pm and overnight.https://bit.ly/36uaeSJ
The Big Lebowlski at The Freefolk Brewery
1pm to 9pm
This Saturday The Big Lebowlski ladies are back to pack your bowls and bellies full!! Come grub on some of their deliciously savory creations! They'll be set-up all day outside, 1-9pm!
Tom Batchelor Band at Cantrell's
7:30pm Cantrell's Rafting
Josh Carden at The Freefolk Brewery
7pm-9pm
Don't miss Jonah Carden on The Freefolk Stage on Sept 18 from 7-9! See the master at work!
Susan Jones Gourmet Rolls & Dave Karaoke Dance Party at Maggie's PUb
8pm-11pm
You do NOT want to miss out on this! This Saturday at 6pm Susan Jones will be here with gourmet Egg Rolls! Lobster rolls, Voodoo rolls, Irish rolls, Yo Adrian rolls, Ho-waiian rolls,, Veggie rolls, Smores rolls and Elvis Rolls. Click on the picture and blow it up to see what's in them all.. Dave will be playing from 8-11 then a Karaoke/Dance party to follow! CHEERS!
M.F.B at The Lost Paddle
8PM Ace Adventure Resort

The M.F.B. is bringing their funk mix back to ACE Adventure Resort for GauleyFest weekend!! Throwdown with Funcle Sam on the deck of The Lost Paddle for this FREE SHOW that kicks
Shelf Life String Band at The Rendevous River Lodge
9pm-11:45pm

Pittsburgh, PA's Shelf Life String Band make their Rendezvous River Lodge debut on Saturday, September 18th for two sets of pickin'! Music starts at 9pm, FREE show.
Sunday
New River Yoga at Adventures on The Gorge Pool Desk
9am
Brunch & Live Music at the Southside Junction Tap House
Enjoy brunch at the Southside Junction Tap House from 12 pm-3pm along with $3 mimosas. There will be live music Brunch tunes 2pm-4pm .$3 Mimosas, and Brunch Specials!
The Freefolk Irish ISh Jam
3pm-5pm The Freefolk Brewery
Andrew Caldwell hosts the Irish-ish Jam Session on The Freefolk Stage. Join us every third Sunday for an eclectic Irish based jam that is open to anyone of any skill level, beginner to experienced.
PBS Culinary Concerts / Bro Hugs and Pawpaws
4pm-8pm Freefolk Brewery
PBS is filming their next Culinary Concert at the Freefolk Brewery!
Chef MK Ohlinger, from Morgantown, will be using the pawpaw fruit in a variety of dishes. Some say that pawpaws are a mango-meets-the-banana with a hint of melon.

We will be pairing the Pawpaw treat with Bro Hugs Brown Ale!

Quie takes the stage at 4pm! Quie is the Morgantown, WV- based music project combining elements of jazz, hip-hop and funk!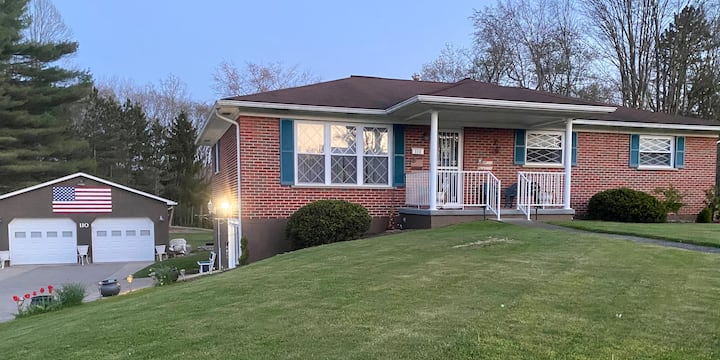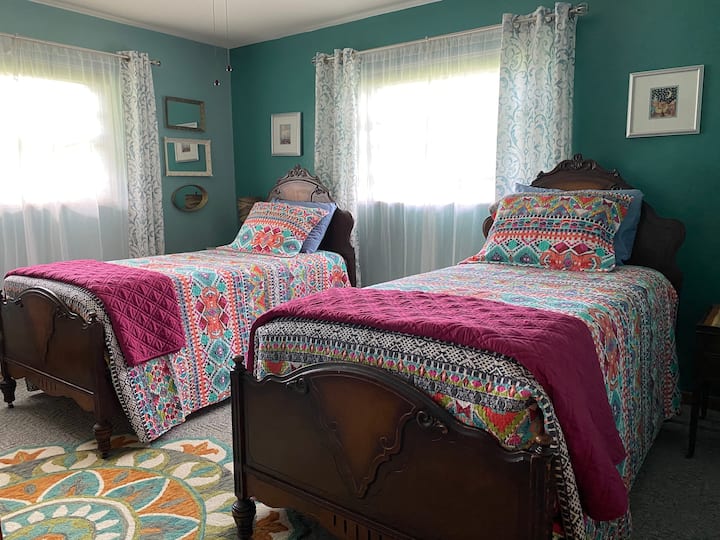 Quiet, residential neighborhood, great for families. The best available, out-the-door access to New River Gorge National Park – trails are available right outside the door. Updated 1960's home, air-conditioned, single-family, with on-site off street parking. Hiking trail in the back yard (literally) takes you to House Creek, as well as a picturesque National Park Service bridge and connections to all hiking and biking trails in the area.
The space
Updated 1960's, air-conditioned, single-family home, with on-site off street parking. Access to hiking and biking trails in the New River Gorge is, literally, in the back yard. A large garage is available to store your biking and paddling gear when you're not using it. The third bathroom/shower are located in the garage, and are perfect for cleaning up after outdoor activities. There are enough beds to sleep 10 guests, but ample floor space will allow air mattresses for extra guests.
The town park is a block away, with a paved fitness trail, softball/baseball fields, basketball court, skate park, playgrounds and picnic areas. The Town of Fayetteville is adding a fenced dog park, separated inside for large and small dogs.
Relax on the back porch with your morning coffee, and watch the kids run around in the large, grassy back yard.
Dining, entertainment and shops in downtown Fayetteville are an easy, 5-minute stroll.