We have lots of fun lined up this weekend in town. We have live music lined up all weekend through town. Ace Adventure Resort is celebrating Labor day weekend with great deals, a film festival, craft beer showcase and live music. This weekend is the annual Oak Leaf Festival in our neighbooring town of Oak Hill.
Fri-Sun
ACE WEEKEND
ACE Adventure Resort is celebrating Labor Day weekend by giving back to our awesome guests. Get great deals on rafting trips and outdoor adventures plus killer end of the year sales at both our gear shop in Fayetteville and our outfitter store on property. Demo boats and gear will also be for sale not to mention an ACE yard sale where you never know what you will find.Daily EventsFriday – Outdoor Film FestivalSaturday – Craft Beer Showcase / Live Music @ Lost Paddle 10 am-11 pm – Clam Bake on the BeachSunday – Yard Sale
Oak Leaf Festival in Oak Hill
Annual festival held on Main Street in Oak Hill, West Virginia on Labor Day Weekend. Fun filled with activities for all ages
Friday
Oak Leaf Festival in Oak Hill
| Time | Event |
| --- | --- |
| 5:00 P.M. | Sweet Taste of Oak Hill (Location to be determined) |
| 6:00 P.M | Jeep Show and Side by Sides on Main Street |
| 7:00 P.M. | Street Dance in front of BBT on Main and Central |
| Dusk | Parade of Lights |
8pm
West King String Band hit the stage at Rendezvous this Friday, September 3rd for two sets of pickin' on the gorge! Music starts at 8:00pm, FREE show.
Matt Deal at the Freefolk Brewery
7pm-9pm
Saturday
Fayette County Farmers Market
Come score delcious fresh goodies in downtown Fayetteville at our weekly farmers market. Find the market off Wiseman Ave. in the Courthouse Parking lot beside the courthouse.
8am-12:30pm
New River Yoga at Adventures on The Gorge Pool Desk
9am
West Virginia Craft Brewery Showcase at Ace Adventure Resort
Craft beer and live music, YES PLEASE!! Spend your Saturday afternoon tasting some of the finest beers from West Virginia's craft brewers and dancing on the deck with some fantastic musicians. Live at The Lost Paddle will be The Settlement, Abby Bryant & The Echoes, Archibald Johnson & Shawn Benfield. Your West Virginia Brewery Tour Pass includes (10) 5oz tastings and a commemorative glass. This is your chance to check out Greenbrier Valley Brewing Company, Bridge Brew Works, Weathered Ground Brewing, Freefolk Brewery, Big Timber Brewing, Sophisticated Hound, Parkersburg Brewing Co. and more!
Oak Leaf Festival Oak Hill
| Time | Event |
| --- | --- |
| 8:00 A.M. | Vendors until 4:00 p.m. on Main Street |
| 9:00 A.M. | Raising of Flag and National Anthem |
| 10:00 A.M. | Parade |
| 1100 A.M. | Photography Contest (location to be determined) |
| 12:00 Noon | Danley Band |
| 2:00 P.M. | Noah West |
| 4:00 P.M. | Magician |
| 5:00 P.M. | Cruise In |
| 5:30 P.M. | 2 Broke Band |
| 8:00 P.M | Esquires |
| 8:00 P.M. | Video Game Tournament |
Emma's Lounge at the Burrito Bar Breeze Hill
7:30pm-11:30pm
Emma's Lounge has the unique ability to morph from rootsy folk to rollicking rock and powerful soul, to head-turning electronic-tinged psychedelic funkiness. Their strange range of creative influence is united by the band's raw energy and audience inclusiveness.
The Greens at The Rendevous River Lodge
8pm
West Virginia's own power trio The Greens will be joining us at Adventures On The Gorge this Saturday for an evening of Rock and Roll underneath the brand new Sunset Pavilion (located between Chetty's Pub and Smokey's)! Music starts at 8pm, FREE show!
Sunday
New River Yoga at Adventures on The Gorge Pool Desk
9am
Family Mountain Bike Camp at Arrowhead Bike Farm
9am-4pm
Add mountain biking to your list of family activities by participating in The Arrowhead Bike Farm's Family Mountain Bike Camps! Whether your whole family is new to riding or you want to share your love for riding with your kids, these camps create a fun and welcoming space for the whole family to improve through practicing skills and spending time out on the trail. We will work through ways to be more stable on your bike, have more control while riding, how to navigate trail features, and many more skills based on group interest! Our professionally trained and certified instructors will provide individual feedback to each of the riders in a fun, enthusiastic and confidence-building way. In addition to our great instructors, we keep group sizes small to provide the largest amount of personal instruction possible.The morning will consist of skill sessions at the Bike Farm and the afternoon will focus on bringing those skills to the trail! We'll wrap up the day with a family ride out to the quintessential New River Gorge view, Long Point.
Location: Arrowhead Bike Farm, Fayetteville, WVAges: 6 and upDuration: 9 am – 4 pmCost: $95/ riderSkill Level: Beginner-Intermediate RidersDates: 7/3, 8/14, 9/5Required Equipment:Helmet
Bike (bike rentals available upon request)
Hydration pack/ Water Bottles
Face Covering
Camp Includes:Bike and Helmet safety check
Lunch from our restaurant
Trail Snacks
Instruction from professionally trained and BICP certified instructors
Fun constructed mountain bike features for focused skill instruction.
Brunch & Live Music at the Southside Junction Tap House
Enjoy brunch at the Southside Junction Tap House from 12 pm-3pm along with $3 mimosas. There will be live music Brunch tunes with Drew Cablefrom 2pm-4pm .$3 Mimosas, and Brunch Specials!
Oak Leaf Festival Oak Hill
| | |
| --- | --- |
| 1:00 P.M. | Gospel Sing Begins |
| 1:00 P.M. | Car Show |
| 5:00 P.M. | Chili Cook Off |
| Dusk | Fireworks |
The Monday Market at the Gaines Estate
4pm-7pm
The Gaines Estate Introduces: THE MONDAY MARKETConveniently open to the public on the first Monday evening of the month, The Market will feature Fayetteville's finest food trucks, produce vendors, artisans and vendors of all kinds. Did we mention LIVE MUSIC from a local artist every month!The Market will be located in the Walnut Grove in the back yard of Gaines Estate. *If interested in being a vendor, please message us or email mariahleeharrison@gmail.comCan't wait to see you there, Fayetteville!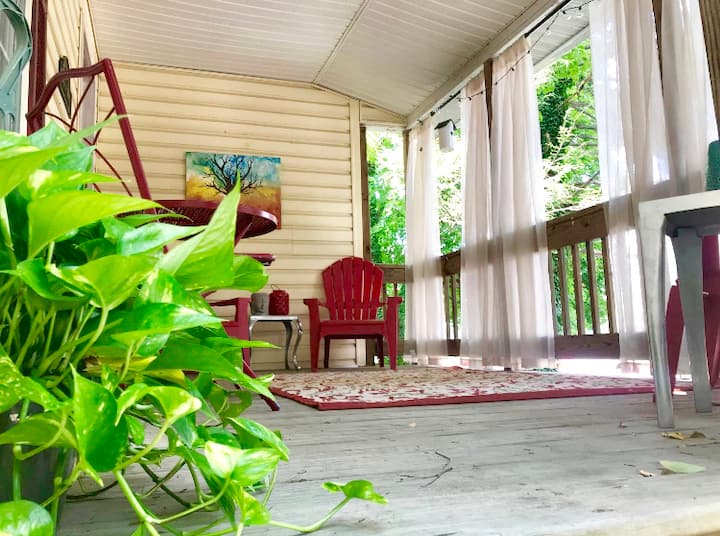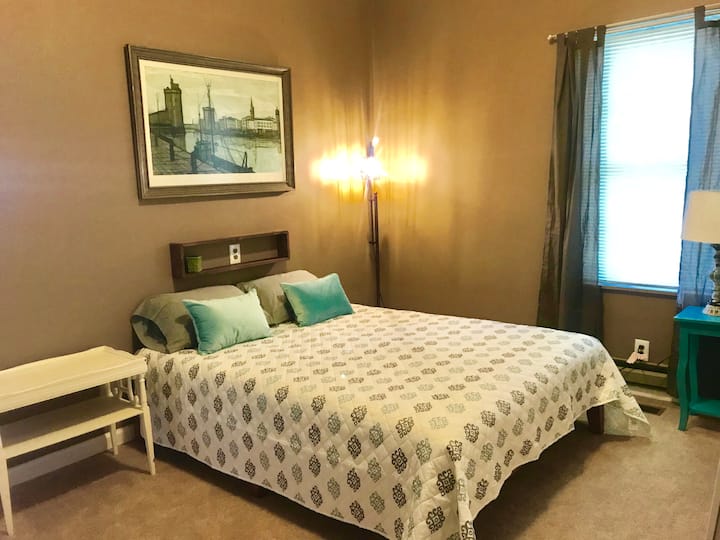 Welcome to Downtown Fayetteville, WV! Court Street Cottage is within walking distance to EVERYTHING downtown; local restaurants, boutiques, gear shops, bicycle rentals, and adventures are right outside your front door. The New River Gorge is within a 2 minute drive! The walls are filled with local WV art and eclectic finds. A perfect spot if you're looking for a space close to hiking, climbing, or white water rafting; at a fair price! Let us be a part of your adventure!
The space
Close to the New & Gauley Rivers!
Less than a 2 block walk to the heart of downtown Fayetteville! Direct access to Court Street from your own private, historic stairs! The driveway is unfit for high-clearance vehicles due to low hanging trees.